The Weekly Social Media Marketing RoundUp- 6th March
11
min read
In this edition of social media marketing roundup, I've included blog posts on Twitter, Instagram, Facebook, LinkedIn, Snapchat. I've also included some miscellaneous posts which help you to develop you overall social media strategy. In this week's social media marketing roundup I've focused on Twitter, Instagram and Snapchat, since all three are making changes in their platform regularly in order to stay in the game of acquiring more and more users.
Twitter
Author: Brooke B. Sellas | BSquared
Do you think you're tweeting enough? Or do you need to tweet more?
This is a question I ask of myself and of our clients.
So I spent an entire year trying to figure out what happens when you tweet more.
Here are my results from a yearlong case study (of myself).
How Often Should You Tweet?
---
Author: Jeff Bullas
The social web has amplified many truths about humanity.
Some of us will do anything to get noticed and build a brand. This even includes some new dubious tactics such as fake news and alternate truth. They have been used to both divert and attract scrutiny.
The reality is that most people love a bit of attention. It is how we are wired.
Attention seeking can come in many forms and constant posting on Facebook and other social networks has now become part of that routine and habit.
---
Want to manage your Twitter account like a pro? Unfollow your non followers, inactive users & spam following users with a powerful tool ManageFlitter. I'm also using ManageFlitter to optimize my Twitter account regularly. You can register for ManageFlitter by visiting this page.
---
Author: Dominique Jackson | Sprout Social
Whether you're trying to promote a blog post, upcoming event or your products, Twitter is a great option. Despite increased competition on the platform and the move to an algorithm based feed, Twitter promotions can still be effective if well executed.
With over 300 million monthly active users, there's no shortage of people to market to on Twitter. The challenge many brands face is figuring out how reach their target audience amongst all the noise on the network. And even more importantly, how do you do it in a way that's genuine and doesn't turn off your followers.
We'll go over all that and more, to help you launch a Twitter promotion that brings in results.
---
Instagram
Author: Brandon Leibowitz | Bosmol
If you're trying to build up a strong presence on Instagram – what better way than to mimic successful influencers? Considering these influencers have already built up their own following, learning from them could help you emulate their success.
While there are many things traits and habits that top Instagram influencers tend to share in common, the four that are invariably the most effective are:
---
Author: Amanda Webb | Agorapulse
Instagram is a great tool for building connections with your audience but unless you have a plan to manage your Instagram followers you could be letting those relationships disappear.
Like Twitter, Instagram lets us reach out and interact with anyone who has an open account. You'll find your customers, your advocates and the people who influence them there.
Unlike Twitter it's not easy to manage your Instagram followers. Twitter gives us lists that filter our view to just the people we add to them. It's a great way to keep in touch with the people who matter. There is no Instagram alternative.
---
Author: Megan Arevalo | Convince & Convert
Use of the internet has increased dramatically in recent years. The rise of smartphones and tablets introduced the concept of ubiquitous information, and internet users are exploiting their data plans to the fullest. A successful digital marketing campaign is no longer limited to traditional paid ads and banners. Now, a business can engage its audience through social media networks, gaining a new level of exposure. Even top international brands use social media to its fullest. In fact, they have some of the most followed accounts on all networks.
Today's marketing is all about creating a personal connection with the audience. Digital marketers are bombarded with facts and statistics, and all these numbers point to the fact that marketers must invest more in social media marketing. But with a lot of information available, it can be overwhelming to choose the right social media strategy.
---
How are you managing your social media profiles? I'm using Hootsuite to manage all my social media profiles. You can post & schedule all your posts from one single platform to save your time. If you're still not sure, why not sign up for 30-Days Free Trial by clicking here.
---
Author: Kaylynn Chong | Hootsuite
So much content is shared on Instagram that it's estimated people miss 70 percent of their feeds, on average. But the creators of the platform are committed to ensuring that you see the photos and videos you care about most.
So, instead of the good ol' reverse chronological order, Instagram has implemented a "best-first" algorithm-based approach.
We're here to give you the low-down on the Instagram algorithm—what fuels it and how to master it when it comes to social media marketing for your business.
---
Author: Andrew Hutchinson | Social Media Today
Instagram's Snapchat-cloning Stories feature has already seen huge uptake, with 150 million daily active users, closing in on Snapchat's own use figures (161 million DAU in December 2016).
And the Facebook-owned platform is not wasting any time monetizing this new opportunity – back in January, Instagram announced Stories ads, full-screen, immersive brand offerings which are inserted between Stories from people you follow.
---
Author: Andrew Hutchinson | Social Media Today
Last week, Instagram rolled out a new "carousel" feature to its app. Users can now choose up to 10 photos or videos (or a combination of the two) to feature in a single post.
As Instagram explains:
"You no longer have to choose the single best photo or video from an experience you want to remember. Now, you can combine up to 10 photos and videos in one post and swipe through to see them all.
When uploading to your feed, you'll see a new icon to select multiple photos and videos. Once uploaded, you can tap and hold to change the order, apply a filter to everything at once or edit one by one.
This new feature has been available for just a few days, but already we're seeing examples of fun and inventive ways that brands are using multiple images and videos to create interesting and engaging content.
In this post, I'll show you a number of examples for inspiration.
---
Author: Dominique Jackson | Sprout Social
Are you investing time, money and resources into Instagram, and only getting a handful of Likes and followers in return? While comments, Likes and new followers are great, they don't always equate to new customers.
Although Instagram is mostly known as a great tool for branding and engagement, it can also be a direct source of new customers. The challenge is figuring out how to turn casual followers into leads and buyers.
If you've been struggling to convert on Instagram, here are eight reasons your followers aren't buying.
---
Author: Carlo Pacis | Wishpond
The year is 2010. A new visual media application called Instagram (a name aptly combining "instant camera" and "telegram") takes the App Store by storm with its focus on mobile photography, beautiful filters, and building a community of dedicated users.
Fast forward seven years, and Instagram has become a social media titan with over 600 million users. It's the definitive platform for visual media sharing, combining photo, video, and live-streaming in a single place.
---
Facebook
Author: Nicole Blanckenberg | StoreYa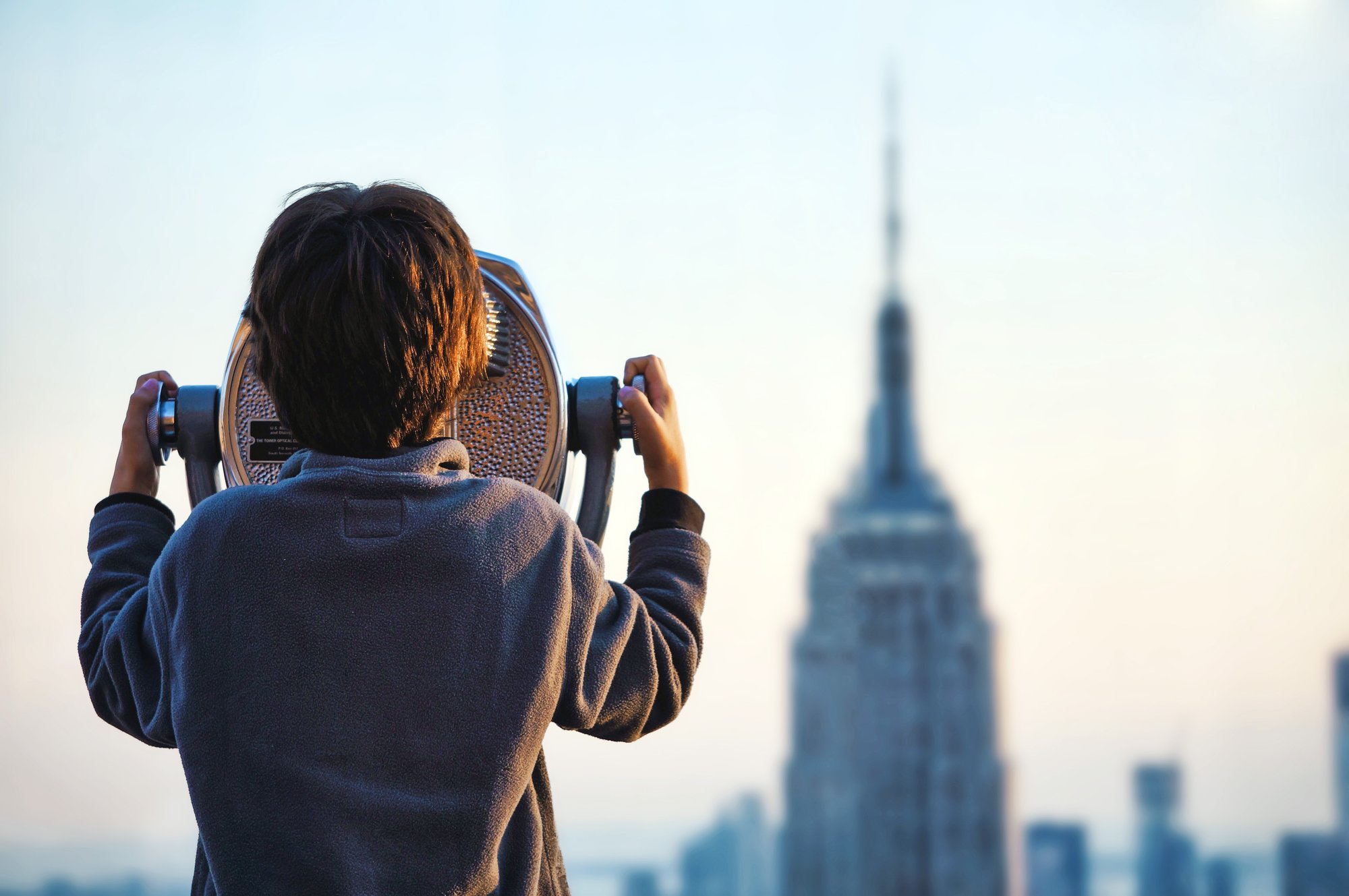 Let's not beat around the bush; eCommerce can seem cut-throat. As the number of online stores increases, so does your need to be one step ahead of your competitors. To stay ahead, you'll have to get your hands on some inside information. No! I am certainly not talking about corporate espionage or putting on your balaclava and sneaking in Oceans Eleven-style. But, if you want to one-up your competitors you are going to have to dig a little deeper.
You may be surprised to know that there are actually quite a few ways to take a sneak-peak at what your competitors are doing on Facebook, plus an abundance of spy-worthy tools to help you. If you're looking for Facebook ad insights – to see your competitors' audiences and what they're offering and who is taking them up on said offers – it's time to roll up your sleeves and get a little (but only a very little) dirty.
---
Author: Sophia Dagnon | Agorapulse
Even the best businesses get negative reviews. Your well-practiced processes can fail, a poor quality product can slip through or a team member can have a really bad day.
What should you do when you get negative reviews on your Facebook page?
Should you ignore them? Should you delete them?
In this post, we'll walk you through all the available options and take a look at some best practices.
---
LinkedIn
Author: Andrew Medal | Business 2 Community
LinkedIn is by far the best social network for generating leads in a B2B setting. So how do you make your brand's profile a lead generating, relationship building, machine?
These 5 keys to generating leads on LinkedIn will help you build the most impactful message and target the right audience to find new business opportunities from this powerful platform.
1. Publish articles on LinkedIn.
Long form posts to LinkedIn are a great way to generate leads for your brand when you write them correctly.
---
Author: Anthony Bergs | Business 2 Community
LinkedIn marketing has emerged as the most viable marketing avenue for B2B marketing campaigns. It produces results that are significantly better than the other types of digital marketing methods. According to research conducted by NewsCred, the ROI of LinkedIn marketing is 17.6, whereas that of native ads is 14.9 and Google Adwords is 3.1. It gives a glimpse of what LinkedIn ads can achieve for businesses that run their marketing campaigns on a shoestring budget. LinkedIn is also the most favourite marketing channel of digital marketers among all the social media networks. An eMarketer survey has yielded the results that 64% marketers use LinkedIn for presale process and 51% use it post-sale. The second best is Twitter with 47% and 42% for pre-sale and post-sale engagement respectively. Your business can benefit immensely with LinkedIn Ads and by deploying the below five key methods, you can maximise their ROI.
---
SnapChat
Author: Christina Newberry | Hootsuite
With more than 150 million daily active users watching 10 billion videos per day, Snapchat has a highly engaged audience that's becoming simply too big to ignore.
In this complete guide to Snapchat advertising, we'll look at some key ways to use Snapchat ads to connect with fans and build your brand identity on this powerful social platform.
Why advertise on Snapchat?
Snapchat is a particularly important platform for brands whose target market aligns with Snapchat's core demographics.
---
Author: Scott Sims | Social Media Today
We've been so distracted by the flower crown and puppy filters that we didn't even know about some of Snapchat's hidden gems.
For this post, we tested a ton of features we didn't even know were available to us.
Snapping and sending pics is easy – become a Snapchat super user by incorporating these ideas into your stories each week.
1. Frame Your Snaps with Characters
With Snapchat, it's easy to use characters for borders and frames. Simply take a photo in Snapchat, and caption it with a single letter (you can do this by selecting the "T" icon). Choose the largest text size when creating the caption.
---
Miscellaneous
Author: Scott Sims | Business 2 Community
Engagement is the key to building and maintaining a social media following. If you only use text when posting to social media, you're going to have a hard time building high levels of engagement. In fact, a small study of the MIT Facebook page found that posts with images have a 37 percent higher engagement rate.
You don't need to be a graphic artist to come up with engaging images for your social media posts. Use some of these tools and resources to help your engagement rates climb.
---
Author: Donald Felix Odoh | Locowise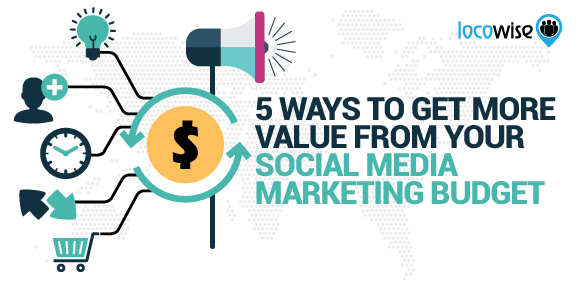 Contrary to what you might have heard, an increase in your social media marketing budget is not the only way to get more value from it. Sometimes a simple reallocation is all that is required to make a big difference.
While this post is not only about the social media marketing ROI, it shows five specific ways to get better outcomes from your invested time and money. Now if you think it's just about creating and sharing great content, think again.
But just what are the core values that can be derived from your social media marketing strategy beyond the vanity metrics? Let's look at some specific examples.
---
Author: Laura Forer | Marketing Profs
There are 2.8 billion people on social media (that's 37% of the world's population!), and knowing who's doing what on which social platforms can be helpful to your business, according to a handy infographic by Tracx, a social media management platform.
The infographic consolidates user demographics across seven of the largest social networks: Facebook, YouTube, Instagram, Twitter, Pinterest, LinkedIn, and Reddit.
Over 50% of social media users are on only one or two platforms, the infographic points out, so businesses need to figure out the right place to find their audiences.
---
Author: Caitlin Burgess | Top Rank
It's no secret that social media has become an important and necessary tactic within most digital marketing strategies. Social media helps build brand awareness, and also provides a space for brands to engage their audience outside of their company website or brick and mortar facilities. In fact, 92% of companies consider social media an important part of their business.
Of course, with nearly every brand using social—as well as frequent tweaks to platform algorithms—the competition to stand out in news feeds has never been more fierce, with brands fighting for visibility and engagement.
---
Author: Michael Stelzner | Social Media Examiner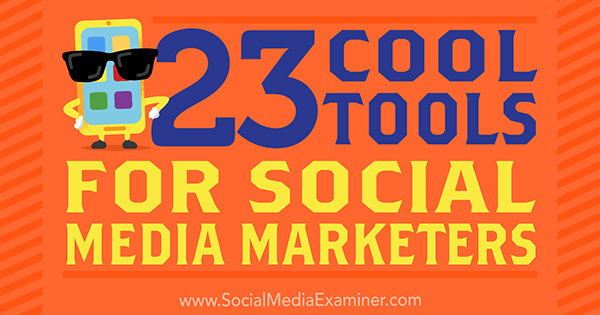 Looking for some new apps and tools to add to your social media marketing toolbox?
Wondering which graphics, analytics, and productivity tools can help streamline your workflow?
In this article, you'll discover 23 tools and apps shared in the Social Media Marketing podcast's Discovery of the Week.
---
Author: Jaclyn Baldovin | Social Media Today
Incorporating strong visual content into your social media posts helps give them the edge they need to stand out from the thousands of other posts competing for attention in your followers' news feeds. Your audience members are much more likely to stop scrolling endlessly through their social media feeds and actually look at your post when they see an image that catches their attention.
Visual content is a great supplement to your text in a social media post, while it can also help you convey information more clearly and efficiently.
To help you maximize your visual assets, here are five, free digital design tools are worth investigating.
---
Over to you
If you like my Social Media Marketing weekly Roundup, please do let us know in comments.