The Weekly Social Media Marketing RoundUp- 4th September
9
min read
In this edition of social media marketing roundup, I've included blog posts on Twitter, Instagram, Facebook and LinkedIn. I've also included some miscellaneous posts which help you to develop you overall social media strategy. Don't forget to check the "Must Read Content" of the week, it's a comprehensive guide on tracking social mentions for startups.
Must Read Content
We've all heard it. The buzz around social mentions – how harnessing them can virtually fuel your marketing engine for free or how social mentions can enhance brand awareness and magically drive lead generation.
And if you're an SMB, or work in a small team, you've probably done the maths, figured out that you don't have enough resources or time to leverage social mentions and moved on.
But even though you don't have the budget of say a Salesforce or a Google, tracking social mentions and using them to your advantage is entirely possible and with a proper strategy in place, it's even… (dare I say it?) easy.
---
Twitter
Author: Neil Patel
Twitter has useful resources to help businesses both large and small with lead generation.
I'm sure you're familiar with Twitter's general search panel.
It's the search bar you've been using to find users, hashtags, businesses, and pretty much everything else on the platform.
The general search results aren't terrible, but it's not ideal for generating leads.
Twitter has roughly 328 million users across the globe.
---
Author: Dmytro Spilka | Business 2 Community
Twitter boasts 328 million monthly active users. With so many users, Twitter has become a conglomerate of celebrity news, entertainment, relationships, and even educational topics.
Just on its own, Twitter is a quality social network. However, if you want to get the most out of your Twitter handle, consider using third-party applications. These tools can be used for a variety of purposes. From boosting sales and building smarter profiles to automatic updates once you publish a blog post – there's a tool for everything.
Online you'll find an endless amount of Twitter tools to choose from. Thankfully, you no longer need to spend countless hours searching for one.
Keep reading to learn about 19 Twitter tools that will change how you use the social network.
---
Want to manage your Twitter account like a pro? Unfollow your non followers, inactive users & spam following users with a powerful tool ManageFlitter. I'm also using ManageFlitter to optimize my Twitter account regularly. You can register for ManageFlitter by visiting this page.
---
Instagram
Author: Neil Patel
If there is one app that I find myself opening more and more frequently, it's Instagram.
The attractive images and videos provide a respite from a lot of the content on other social networks.
I'm not alone.
Instagram is growing at quite a clip.
Today, it has over 700 million active users. At the rate it's going, it will soon reach the billion mark that other platforms have reached, such as Facebook (its parent company) and Whatsapp.
---
Author: Ana Gotter | Business 2 Community
Facebook Ads is constantly updating their interface with new features, but it's not all that often that we get new ad types all together. Instagram Story Ads is the newest ad type and placement that we've gotten recently, and it's an incredible platform to include in your video marketing efforts.
Because Instagram Story Ads is an entirely new ad format and is different from anything else that we've seen from Facebook Ads, it's important to approach it as entirely new. There are new best practices, new strategies to consider, and even new methods of actually creating the video itself that will be used in the ad.
In this post, we're going to take a closer look at how to create a perfect Instagram story ads video, including technical requirements and design tips to increase clicks and conversions.
---
Author: Stephanie Leishman | Agora Pulse
Recently, Instagram started using an algorithm to reorder how posts are viewed in your home feed. This means that you're no longer seeing images in reverse chronological order and instead the algorithm overrides chronological order to show you posts that Instagram thinks you will "care about most."
In March 2017, Instagram posted about the new algorithm: "To improve your experience, your feed will soon be ordered to show the moments we believe you will care about the most." What are the metrics for "caring" that Instagram thinks are common to all users? Timeliness of the post, relationship with the person posting, and the "likelihood you'll be interested in the content."
---
Author: Nathan Mendenhall | Social Media Today
Digital marketing changes very rapidly, so it's important to stay caught up with new platforms, strategies and tactics.
One thing that can be extremely helpful when trying to stay ahead of the game is keeping an eye on stats – while you always need to be careful and consider the source of said statistics, they can help you predict trends and isolate opportunities in the market to make an impact.
The following Instagram stats could prove extremely valuable when planning your Instagram strategy for 2018. Check them out.
---
Pinterest
Author: Neil Patel
When you hear the word "Pinterest," what pops into your head?
Wedding inspiration? Design DIY? The best Oreo cupcake recipe ever?
But here's the thing: Pinterest is useful for so much more than that.
In fact, when it comes to Pinterest, it's good to employ the good ol' "don't judge a book by its cover" adage.
Because once you dig a little bit beneath the Pinterest surface, you'll find some amazing tools to grow your business.
Are you not convinced that Pinterest will work for you?
---
Facebook
Author: Neil Patel
Google Ads and Facebook Ads are the two major platforms for advertising online.
While Google has its advantages, today's focus is going to be on Facebook.
Facebook is the largest social media platform online
According to Pew Research statistics, it has consistently maintained more than double the traffic of its nearest competitors for the past 5 years.
---
Author: Jessica Davis | Business 2 Community
It's every digital marketer's desire to make the most of Facebook, but there are several barriers that stand in the way. While some marketers can't figure out what their content is lacking, others struggle know what they want to create but lack the resources to do it. The great news is that there are several Facebook marketing tools out there that can help.
The following is a list of 7 free Facebook marketing tools that you can use to accelerate your Facebook marketing efforts. What's even better is that they are all free!
---
Author: Aaron Agius | Jeff Bullas
It's no secret that Facebook is one of the most lucrative platforms for advertisers. As of 2017, there are over 4 million active Facebook advertisers worldwide.
When you consider that Facebook has 1.28 billion monthly users, you're sure to find a large audience to market to – whatever niche you're in.
Unlike SEO and content marketing (which take time to generate momentum), Facebook ads can potentially yield great results within days of starting a campaign.
Once you find an ad that delivers the right offer to the right audience, and your cost per acquisition still leaves you with a healthy profit, you can simply scale your campaign by increasing your ad spend.
---
Author: Andrew Hutchinson | Social Media Today
It's not just you and your Page – according to new research by BuzzSumo, the average number of engagements with Facebook posts created by brands and publishers has fallen by more than 20% since January 2017.
BuzzSumo analyzed more than 880 million Facebook posts from publisher and brand Pages over the past year, noting a clear decline in engagements since early 2017.
That's likely no surprise to most Facebook Page managers – organic reach on Facebook has been in decline since late 2013, according to various reports, with continual changes to the News Feed algorithm re-aligning the priority of what users see.
Indeed, in the past year, Facebook's News Feed algorithm has seen a range of updates which could contribute to this decline:
---
LinkedIn
Author: John Espirian | Social Media Examiner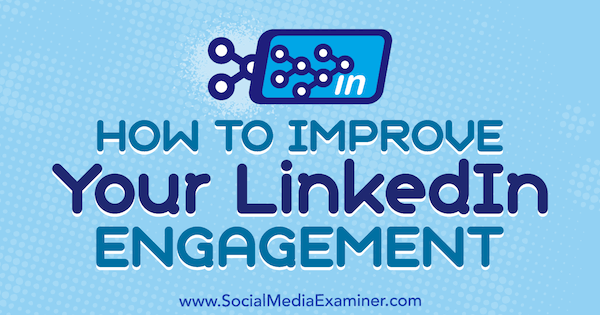 Want your LinkedIn posts to attract more viewers?
Wondering how to increase views and shares of your LinkedIn content?
In this article, you'll discover five simple tactics to improve engagement on your LinkedIn posts.
#1: Write Text-Only Posts
You've probably heard that people engage more when a social media post shows an image or video. Although that might be true on platforms like Twitter, this tactic doesn't seem to work on LinkedIn.
---
Author: Nick Harland | Business 2 Community
LinkedIn recently hit 500 million users, making it (depending on which source you read) the 3rd biggest social network in the world behind Facebook and Instagram. But here's the thing: although LinkedIn can boast an enormous user-base of working professionals, only around a quarter of that 500 million are monthly active users. This means that a heck of a lot of people have a LinkedIn account, but perhaps aren't using it to its full capability to either market their business, market themselves or gain valuable insights. With that in mind, here's how you can make the most of three of its key features and start connecting with 500 million potential customers, contacts and colleagues.
---
Miscellaneous
Author: Vikas Agrawal | Social Media Today
Social media marketing is one of the cornerstones of online brand building. It doesn't matter if you run a blog, own an eCommerce store, or manage a brick and mortar business. If you value your brand's online identity and authority, then building a social media presence is a worthwhile endeavor.
But before you get too carried away, remember that social media marketing can be dangerous for smaller brands. If you're not careful, you could be vulnerable to "fails" and aggressive competitors who aren't afraid to play dirty.
So without further ado, below are four brand protection strategies to remember before you go on the offensive:
---
Author: Cynthia Johnson | Social Media Examiner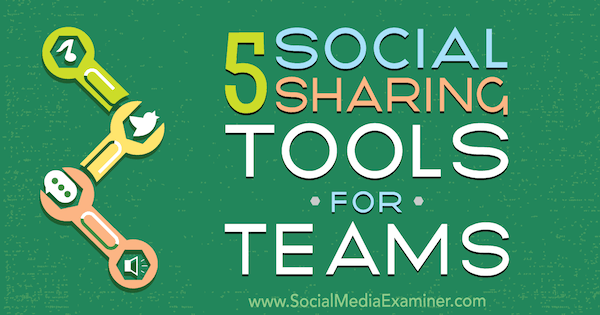 Do you want your employees to contribute to your social media marketing?
Looking for tools to manage the content people share on social?
In this article, you'll discover five tools that will help you coordinate the content your team posts on social media.
---
Author: Andrew Hutchinson | Social Media Today
An inevitability in the age of algorithms is that people are going to try and find ways to 'hack' them, to cheat the system, to get an advantage based on whatever tools they think they have available.
Of course, that approach makes sense – if you can get your business more exposure, why wouldn't you? This is particularly true of platforms like Facebook, which now reaches 2 billion people. If you knew a way to cheat Facebook's News Feed algorithm and boost your reach, you'd do it, especially since Facebook organic reach for Pages has declined so significantly in recent times.
---
Author: Bernadette Coleman | Social Media Today
Social media marketing enables businesses to target consumers where they spend the most time online, however to get the most bang for your marketing buck in social, you need stay up-to-date on the latest social media advertising trends, best practices, and consumer expectations.
Thankfully, Mary Meeker of Kleiner, Perkins, Caulfield & Byers (KPCB) hit it out of the park once again with her annual gift to digital marketers: the Internet Trends Report. This year, some of Meeker's noteworthy insights revolve around social media – she reveals which social media platforms are leading advertising growth, which are driving the most sales, and also highlights new trends emerging in how consumers want to interact with brands on social media.
In this post, I'm going to discuss five important social media takeaways from the 2017 KPCB report that digital marketers need to know. After all, the better we understand recent social media trends, the better we can leverage them in our digital marketing strategies.
---
Over to you
If you like my Social Media Marketing weekly Roundup, please do let us know in comments.