The Weekly Social Media Marketing RoundUp- 31st October
10
min read
In the social media roundup of this week, I've included blog posts about Facebook, Twitter, LinkedIn, Instagram and Snapchat. I've also included some miscellaneous posts which help you to develop you overall social media strategy. While Facebook is moving towards making life of e-commerce portals more tough by integrating with Paypal to make transactions online, Instagram stories are still making headlines. Brands are still in learning phase on how these stories can help their business.
Facebook
Social media is constantly changing. Recently Facebook has added a few small features to help you get even more reach and engagement from your audience. We all know Facebook can be a tricky network when it comes to generating reach and interaction, but these simple tweaks can help you get a little more engagement from your existing Page fans.
1. Use Preferred Audiences
Preferred Audiences are a way to prioritize who sees your Facebook posts or Page without restricting reach.
Facebook describes the feature like this: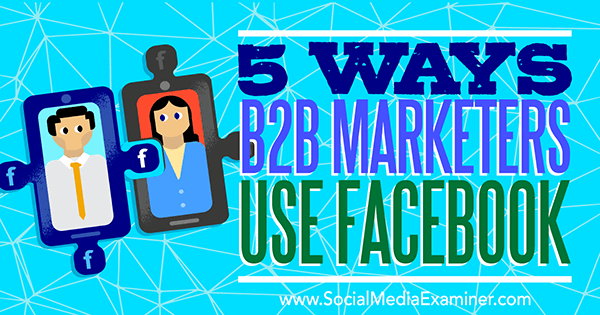 Do you need to connect with other businesses on Facebook?
Wondering how other brands make Facebook work for them?
In this article, you'll discover how top B2Bs use Facebook to reach and create relationships with business prospects.
#1: Support Expert Positioning With Visuals
Facebook is largely a visual social network. In fact, posts with images get 2.3 times more engagement than those without.
Here's a quick one – PayPal has today announced a new integration with Facebook which will enable people to use PayPal as a payment option across The Social Network, including within Messenger.
Facebook's pushing hard to make Messenger a more viable option for businesses, with new tools and systems designed to better enable direct purchases via message. Just recently, Facebook announced a new integration with Shopify to enable more merchants to showcase and sell their wares via Messenger, while they're also testing an early beta version of their eBay shopbot.
According to PayPal, the new Facebook integration will enable the following:
In the U.S., PayPal will start to roll out as a payment option across more of Facebook's commerce experiences, including Messenger commerce.
It will be easy for PayPal customers to link their PayPal accounts to Facebook and Messenger at PayPal checkout.
PayPal customers in the U.S. will also be able to get notifications in Messenger, first starting with making it easier to manage receipts for PayPal transactions neatly in one place.
The move will make it much easier for PayPal's 192 million active users to make purchases via message. While businesses have been able to pay for Facebook ads through PayPal for some time, these new options further expand the possibilities of what can be done through the platform within Facebook's eco-system.
Twitter
Want to manage your Twitter account like a pro? Unfollow your non followers, inactive users and spam following users with a powerful tool ManageFlitter. I'm also using ManageFlitter to optimize my Twitter account regularly. You can register for ManageFlitter by visiting this page. 🙂 
The numbers look grim.
Data analyzing how the social media site Twitter is used for abusive online behavior, or trolling — in internet parlance — does not paint a pretty picture.
The company may have lost potential buyers because of its very real problem with trolls. Bloomberg reported the reason Walt Disney decided against offering a bid to buy Twitter was due to the platform's bullying and hateful communication.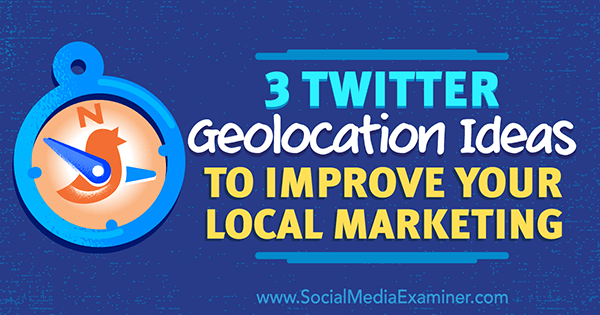 Do you want to reach more locals with Twitter?
Wondering how to build connections in a specific location?
Using geolocation data can help you find the right people to connect with on Twitter.
In this article, you'll discover three ways to use geolocation coordinates to build stronger connections with Twitter.
Instagram
On 2nd August 2016, Instagram Introduced Instagram Stories, a new feature with remarkable similarities to Snapchat.
Instagram Stories is surely an act of digital and business warfare.
That's the only way I can interpret Facebook's apparent go-forward strategy for tackling Snapchat, a social media juggernaut Facebook once tried to buy. As of today, Facebook appears to be done pursuing purchasing SnapChat.
It has its own rapidly-growing social media platform, Instagram, that, not-too-coincidentally, appeals to the same highly-desirable and digitally-engaged tween and teen-set. And now that platform has Stories to offer.
For the week of October 17 – October 23, 2016, U.S. brands and properties captured 146 million likes and comments on posts published on Instagram. Powered by Shareablee data, the top brand on Instagram for each respective industry is shown in the ranking below.
National Geographic (Media Publisher) topped the ranking with nearly 29 million Instagram actions, topped by a photo of Tim Laman, the winner of "Wildlife Photographer of the Year 2016". The NFL (Sports) came in second with nearly 12 million likes and comments on Instagram, led by a photo of Dak Prescott and Aaron Rodgers from #DALvsGB.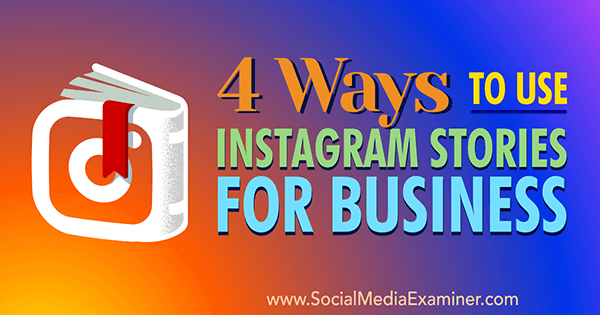 Want to incorporate Instagram Stories into your marketing?
Wondering how other businesses are using Stories?
Instagram Stories let you engage your customers and prospects with a more complete message than a single image can provide.
In this article, you'll discover four ways to use Instagram Stories for business.
Discover four ways to use Instagram Stories to market your business.
LinkedIn
LinkedIn recently announced an update to their 'Endorsements' feature as part of an effort to make the feature a more relevant, and accurate, reference point for those utilizing the platform.
To help members take advantage of this, LinkedIn's published a new post with advice on how to make the most of your endorsements in order to boost your profile and get found by those seeking people with your skills.
First off, LinkedIn advises that users should review their current endorsements and highlight the top skills they're seeking to be recognized for.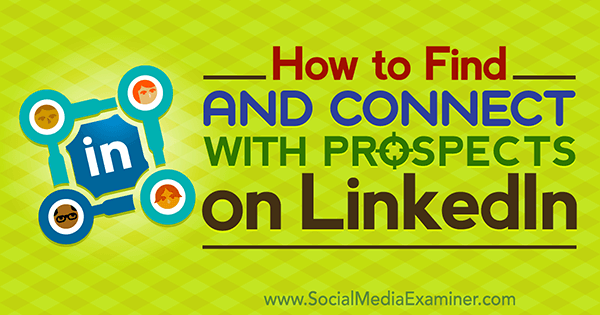 Do you use LinkedIn to find new customers and clients?
Want to get more value from LinkedIn?
LinkedIn is a great platform to find and connect with potential partners, customers, and clients.
In this article, you'll discover how to use LinkedIn to find your target prospects.
Miscellaneous
While we use social media everyday, it isn't often that we ask fundamental questions about what the medium is for, or what function it serves in the lives of our communities.
What is it for? It connects us to the lives of other people through stories and images. People and businesses use it to sell products and promote ideas. And we use social media to try to do a little bit of good.
Recently, there have been a few examples of social media advocacy that show just how great a tool social media can be for "doing good." As a purpose-driven organization, you should be using social media to connect with your stakeholders, but you might also use it in your advocacy work.
As social media increasingly brings brands into direct contact with their audiences, certain social listening strategies can help companies to increase brand visibility, strengthen customer loyalty, and improve audience engagement – and all on a slim budget.
Rather than simply monitoring trends within your social accounts, social listening transforms widespread analysis into meaningful action.
I recently spoke with Jonathan Allen, President of L&T Co., who offered some expert tips on developing innovative social listening strategies. Over time, implementing these methods can enable marketers on any budget to develop more effective engagement practices, ultimately bringing consumers closer to companies and brands with whom their values align.
There's always something new in the social media space . Every day there's a new announcement, a new feature – some of them are major and some less significant. But then again, the impact of each change is relative – what may be small to the general user may be huge to someone else.
As part of our ongoing effort to provide you with the best coverage of the latest social media news and insights, we feel it's important to cover all of these updates and tests – but sometimes they're not worthy of a their own individual post.
So to keep you up to date on these smaller changes and features, here's a rundown of five upcoming or "in test mode" features that are currently being trialed by some of the major platforms – starting with Facebook, which is trying out a couple of new options.
As we approach another holiday shopping season, marketers everywhere are gearing up for their annual social media marketing strategy.
Given the growth and evolution of social media–and in particular, the accelerating role of social influencers in driving brand perception and purchasing decisions–there is a growing awareness of the need to find new ways of reaching skeptical consumers this holiday season.
Here are five of the most compelling ways to ensure that your brand resonates with consumers and generates revenues this holiday season.
It's no mystery that social media is a crucial part of any marketing strategy — regardless of industry, company size, product, or service.
We've all been there. Back in the day, I had to make the case for some businesses to even have a social media presence in the first place. But finally — finally! — it seems like folks are catching on. After all, 69% of marketers are using social media to build a following.
Now that most marketers really do understand that social media is a strategic must-have, how can we make it more manageable? Like many other things in life and in business, planning ahead is the way to go.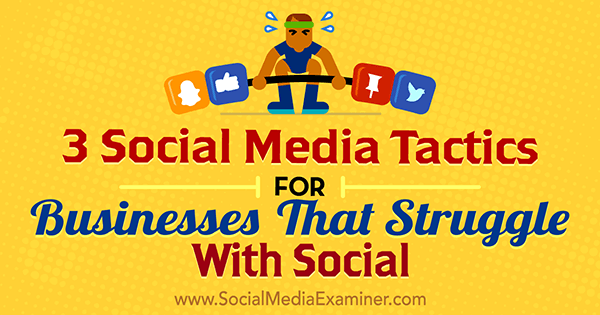 Are you struggling to connect with your audience on social media?
Do you feel like social media won't work for your business?
It's not easy to put every business on social media, but the right approach can help even the most difficult cases reach their customers.
In this article, you'll discover three ways any business can use social media.
Social media is a beautiful thing. It connects people together who may never have had the chance to speak before. It gives people a voice who might never have had a platform.
When it comes to learning how to leverage social media, one recurring issue stands out: Most content seems to build off pre-existing content instead of being original.
As a result, many social media myths have circulated around the internet.
Here are just a handful of them…
We've polled some of the savviest sages in social media to help you think through your 2017 social media plan. As it turns out, there are a lot of things to put on your consideration list — from reassessing how you measure your activities to making sure social is integrated into your overall campaign from the start. Oh, and don't overdue it with brand emojis!
1. Manage Your Metrics:
Brian Kardon, CMO, Fuze
Too many marketers focus solely on their activities — the number of blog posts published, number of webinars hosted, number of field events, and so on. Boards and CEOs do not care. They do care about the results of those activities. Marketers need to do a better job of presenting the results of their efforts — like the number of leads, pipeline created, deals accelerated, higher win rates, etc.
Snapchat
Why should you create a marketing campaign with Snapchat? Snapchat's chief strategy officer (CSO) Imran Khan will tell you. During a keynote presentation at Dmexco covered by Adweek, Khan pointed out that approximately 73 percent of Snapchat's 150 million daily users are located in the U.S., Canada, or Europe. Meanwhile, more than two-thirds of users create daily content, with the average person spending 25 to 30 minutes in the app. That's a big opportunity for marketers.
If you're not yet familiar with how to use Snapchat for business, check out our Snapchat for Beginners and Snapchat for Business guides to get a feel for it. Once you've absorbed the basics, head back over here for some marketing inspiration.