The Weekly Social Media Marketing RoundUp- 28th November
9
min read
In the social media marketing roundup of this week, I've included blog posts about Twitter, Facebook, Instagram. I've also included some miscellaneous posts which help you to develop you overall social media strategy. As Instagram is the booming social media network, it is making enhancements in the product regularly to keep users engaged. Sometime back Instagram has introduced stories now it is making changes to stay ahead in competition with Snapchat and other social media platforms. It has also included some new features in it's latest update to fight plagiarism.
Twitter
Twitter might be struggling, but brand customer service on the platform is more popular than ever. In the last 2 years, Tweets to brands and their customer service handles have increased by 250%. Many people also choose Twitter over other social platforms for customer service. In fact, 80% of customer service requests on social media happen on Twitter.
While Twitter may not be the most utilized social media platform, it's still one of the most effective and relevant channels to start online conversation – and maybe even spark a social movement.
At Webfluential, I often give advice to influencers on their social value and how they can improve it. While working with these influencers I've been asked a host of questions about Twitter, the most common being:
How can I grow my audience?
How much should I charge as a Twitter influencer?
How many followers do I need to be considered influential?
With the concept of snackable content in mind, I thought it would be helpful to answer some of these questions in the form of an infographic – check it out below.
Want to manage your Twitter account like a pro? Unfollow your non followers, inactive users & spam following users with a powerful tool ManageFlitter. I'm also using ManageFlitter to optimize my Twitter account regularly. You can register for ManageFlitter by visiting this page.
Wondering if Twitter could be the marketing tool your business needs? Thinking your company needs a larger Twitter following? Here are the questions you should ask yourself first:
Do I need business instantly (and have no following)? If yes, then no social media channel is going to be right for you—try advertising.
Do I (or my team) have four hours a week and $100 a month (that's your estimated tool cost)? If no, then you won't be able to actually pull this off.
Do I know who my ideal customer is (especially what hashtags they might use to identify themselves)? If no, then figure out your buyer persona before attempting this strategy.
Do I have tracking set up on my website (email conversions, most importantly)? This is standard operating procedure, so it better be a "yes."
Do I have blog content or something valuable to promote? If no, then create that before beginning.
Now, if you're ready to proceed, Twitter marketing could be just what you were looking for. But before we begin, I have to tell you the truth about marketing on Twitter…
Learning how to use Twitter is one of the best things I've ever done to grow my personal brand.
Since there aren't any geographical limitations, I quickly learned my Tweets could potentially reach thousands (or more) people.
Because of all the exposure from my Tweets, I've been invited to conferences, featured in books, and even Mashable once featured my one of my Tweets!
In this blog post, I will drill down how to to use Twitter to quickly and easily reach a huge audience.
As we head into the holiday season, it's time to get your social profiles in check and ensure you're capitalizing on that increased buyer intent and attention. And while spreading seasonal joy is one key element (people will be more inclined to purchase from you if you can foster those positive feelings of Christmas), there are other key elements of your social profiles that are worth updating and/or refreshing to maximize your opportunities.
To help with this, Twitter's released a new checklist for updating your Twitter profile for the holidays. And while most of the notes are fairly straight-forward, and things you've likely already put into action or considered, it's worth checking out their recommendations and ensuring you're doing all you can to engage your active Twitter audience.
The full infographic is below.
Facebook
We as consumers like to think that we're above marketing tricks. We're savvier than when we were shopping 10 years ago. We use tools like price-comparison apps and budget-prompted push notifications to help us shop better.
Use consumer psychology to your business' advantage. This doesn't mean you use evil tactics to deceive your customers. Consumer psychology is all about knowing your customer's buying habits. It's useful for automatic processes (e.g. sending an automated email to a potential customer if they left a shopping cart without purchasing) or even for knowing where to place your call-to-action buttons on your website.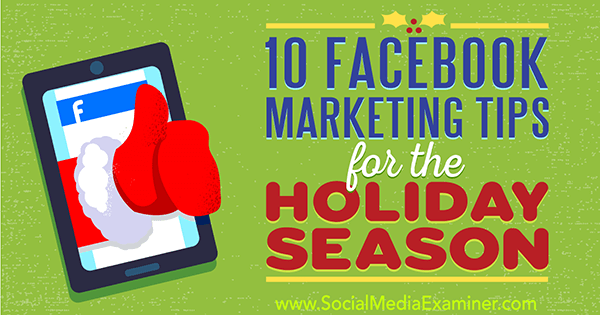 Is Facebook part of your holiday marketing plan?
Are you looking for tips to improve your holiday campaign?
In this article, you'll discover 10 Facebook tips to widen your visibility and reach during the holiday season.
Plan Your Holiday Marketing
Before you utilize the power of Facebook, take the time to plan your promos and content.
Instagram
Instagram's latest Snapchat plagiarism update lets you send self-destructing messages to your friends — an excellent feature for sexy time. Just know that your friend will be notified if you take a screenshot of their message.
Buzzfeed remarked Friday that people are "freaking out" over the notifications, which work exactly as you'd expect them to. If you send a "disappearing message" to a friend and they take a screenshot, you'll get a message on your phone saying so — just like you would on Snapchat.
Note that the notifications are only for the new disappearing message feature, which, if you're anything like me, you probably can't figure out how to use anyway.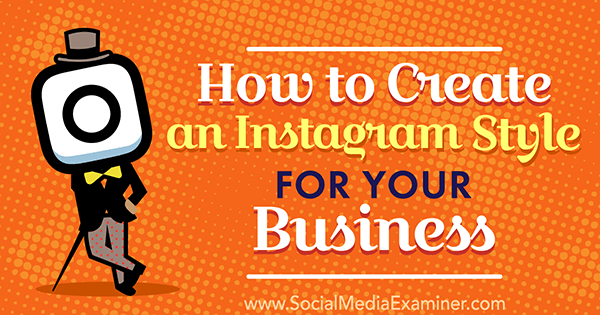 Want your Instagram feed to reflect your brand?
Looking for ways to create an Instagram presence people recognize?
Attracting your target audience on Instagram starts with a well-planned approach to your visuals.
In this article, you'll discover how to define an Instagram style for your business.
How are you managing your social media profiles? I'm using Hootsuite to manage all my social media profiles. You can post & schedule all your posts from one single platform to save your time. If you're still not sure, why not sign up for 30-Days Free Trial by clicking here.
Miscellaneous
For more than five years I've been predicting that brands would shift their attention from social media marketing to social customer service and online customer experience. And according to new research from Altimeter Group, that threshold has now been crossed.
In their "2016 State of Social Business" publication, Altimeter analysts Ed Terpening and Aubrey Littleton report that among 523 respondents in big companies in the US and Europe "social customer service" is now the top external objective for social business functions, just ahead of "relationship building" – which also focused on current customers, not customer acquisition.
If you manage social media in your business, you'll know just how much hard work and effort goes into developing a social media strategy. Coupled with reporting, responding to customers, and creating, scheduling and tracking content, it can be quite a challenge.
However, there are a huge range of tools you can use to help you become more efficient and effective in your job. So, whether you're a full-time Social Media Manager, or have other responsibilities within the business, these tools can help free up your time for other important tasks. Here's a list of seven popular tools to get you started.
We know how powerful social media can be for branding. It's one of the most effective ways to reach the masses and build awareness for your company. But there's another side of social media that's equally important–converting social media followers into leads or customers.
Social media conversions are the ultimate sign of success for marketers. Building an audience of hundreds of thousands of followers is nice, but does your brand have the ability to get them to take action? This is one of the biggest challenges companies face on social media, particularly for marketers tasked with proving the ROI of a social media campaign.
If you're struggling to turn your Twitter, Facebook and Instagram followers into leads, here are seven quick tips to optimize your social media conversions:
Marketers are under a lot of pressure to make sure their campaigns get noticed on social media. With so many businesses active across all social platforms, the content you're publishing has to be more innovative, creative and engaging than ever.
As a rule of thumb, you should avoid gimmicks and cheesy marketing ploys. And recreating an approach that worked for one brand won't always pan out for yours. A successful strategy relies on a variety of different elements. Here are six social media tactics you should adopt:
Social media platforms and the methods of using them as a marketing tool are constantly in flux. As a new business owner, a million things cross your desk — or phone — each day, leaving you little time to keep up with today's most important marketing channel.
If there's one bit of information that you need to begin with, it's this: Don't jump in headfirst. It's important to understand why you're on social media beyond "because everyone is these days." This is a matter of determining what your goals are in detail.
Once that's sorted out, it's time to figure out how you're going to achieve your social media marketing goals. Check out these four tips before you get started: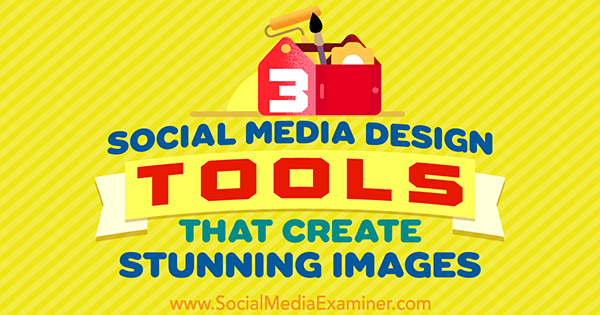 Do you want a consistent look for your social media images?
Looking for tools that are easy to use?
Great-looking graphics are crucial to maintaining a consistent and quality brand image on social media.
In this article, you'll discover how to use three free tools to create the perfect social media images.
LinkedIn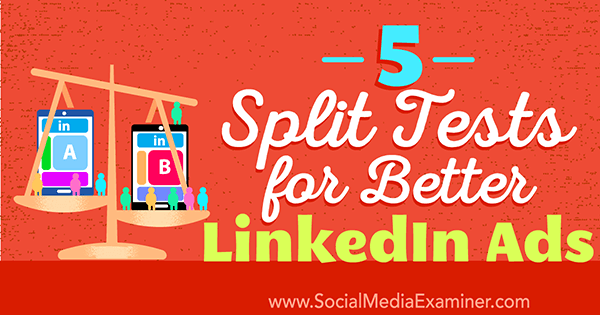 Do you want to improve your LinkedIn ads?
Have you thought about running split tests (A/B tests) to see what your audience responds to?
Optimizing your LinkedIn Sponsored Content campaigns can help you better reach the people who matter most to your business.
In this article, you'll discover five split testing tactics for LinkedIn ads.
Reddit
Founded in 2005 by Steve Huffman and Alexis Ohanian, college roommates at the University of Virginia, Reddit is now the 11th most popular site in the U.S. and 25th in the world. Attracting 542 million users per month, users look for quality content and trust that they won't be targeted by advertisements on the platform.
This is one of the things that makes Reddit so unique and raw in today's ad-cluttered world. Businesses that use Reddit as a marketing tool can expect high levels of engagement if your strategy is executed right.
Snapchat
Before Instagram Stories threw a wrench in its seemingly unstoppable growth trajectory, Snapchat was the most promising opportunity for brands looking to reach Millennials and teens. There's a good argument that this hasn't changed, but as brands and influencers have watched Instagram Stories dwarf their views on Snapchat, many are skeptical of pouring more energy into the channel, particularly when Instagram offers superior analytics and is introducing some amazing new features for influencers.
Abandoning Snapchat completely, however, may be shortsighted.
For the same reasons that users first fell in love with the platform, Snapchat has remained a force that brands can't ignore. Instagram may have inarguably won the battle over analytics and audience size, but it still hasn't replicated the authenticity that made Snapchat so unique.