The Weekly Social Media Marketing RoundUp- 26th December
10
min read
In this edition of social media marketing roundup, I've included blog posts on Twitter, Facebook, Instagram, LinkedIn and Pinterest. I've also included some miscellaneous posts which help you to develop you overall social media strategy. One of the major focus this week has been on Twitter marketing and how to use it as an effective social media marketing tool. One post which I would seriously recommend lies under Miscellaneous category which lists "Top 5 Female Social Media Entrepreneurs".
PS: Merry Christmas & a very Happy New Year to all my readers.
Twitter
Author: Seshu Madabushi
Twitter has effectively been our micro-blogging friend for a decade, which has even changed the face of marketing. It's a great marketing tool & One can easily convert a 140-letter copy into an effective and succinct sales pitch. Here's how…
Profile Set Up: Your profile picture and your bio are the most relevant info that will describe your brand and will stick by every tweet you send out. Make sure you incorporate appropriate business info, hours, menu and a personalized logo.
---
Author: Sheena White
It's hard to argue with numbers – especially the number "one billion."
Social Quant has analyzed over a billion tweets in this study to show you what their data says about Twitter marketing.
Are you sick of hearing what you should do from so-called "experts" – many of whom provide contradictory advice?! "Do this. Don't do that. Why? Because I said so."
Well, forget that. Let's see what big data has to say about how to handle your tweet activity to get the most from Twitter.
---
Want to manage your Twitter account like a pro? Unfollow your non followers, inactive users & spam following users with a powerful tool ManageFlitter. I'm also using ManageFlitter to optimize my Twitter account regularly. You can register for ManageFlitter by visiting this page.
---
Author: Larry Kim
Is Twitter the best online advertising platform?
Sometimes.
While it's true that Twitter has its problems, in certain cases and contexts, it truly is the best ad platform you'll find, though ultimately it will depend on what you hope to accomplish.
But Twitter offers some unique ad targeting features you won't find anywhere else. These are the unicorns in a sea of donkey ad features.
Don't get me wrong – I love Facebook Ads, Google AdWords, and Bing Ads. These advertising platforms all do a ton of things fantastically well.
---
Author: Dominique Jackson
Does Twitter still work for small businesses? How can you get your Tweets seen? Should you invest time into it? These are some of the most common questions we've seen about Twitter for small business in 2016. The common theme is businesses are struggling to make Twitter work as effectively as it used to.
As Twitter grew and more brands jumped on board, competition became more fierce. The upside is it gives you a larger audience to reach. The downside is Twitter feeds fill up faster than the gym in January, so it's harder to get your Tweets seen. But don't worry, Twitter is far from dead.
---
Instagram
Author: Deep Patel
For Generation Z, the demographic cohort following Millennials, social media is more than an online experience. It stores our memories, reminds us of important events, and provides a platform for authentic human interactions.
And although social platforms encompass many functions for normal, everyday people, their utilities go through the roof when in the hands of a capable business. With Snapchat, for example, companies can showcase behind-the-scenes footage to better connect with consumers.
With Twitter, businesses can continuously send out bite-sized updates about their most relevant products. But with Instagram, if done correctly, businesses hold a much more engaging power. And the best way to tap into that power is marketing through visuals.
---
Author: Deep Patel
Over the years, Snapchat has developed from being a simple photo sharing app to a full social experience complete with snap stories and snap news. The iconic snapchat story transformed the app from a private sharing experience to a complete social platform.
Likewise, Instagram's foundation is rooted in allowing users to exhibit their content to as many people as they would like. But now Instagram has expanded on that and taken a few tricks from Snapchat, the most prominent being Instagram stories.
The recent update to Instagram incorporated their own version of the Snapchat trademark, and they can utilized as great marketing tools. Instagram stories have greater potential for marketing than Snapchat stories because of Snapchat's usage as a sharing app between friends, while Instagram users are accustomed to following profiles for products they like.
---
How are you managing your social media profiles? I'm using Hootsuite to manage all my social media profiles. You can post & schedule all your posts from one single platform to save your time. If you're still not sure, why not sign up for 30-Days Free Trial by clicking here.
---
Facebook
Author: Sophia Bernazzani
One average, Facebook is home to 1.18 billion daily active users — from CEOs, to students, to companies. And while the community is clearly there, connecting with them from a marketing standpoint isn't always easy.
For brands, posting on Facebook alone isn't enough anymore — especially for ones just starting out. Sure, you can throw money at your efforts to drive people to your Facebook Page and send them to your website, but that only works if you're smart about it.
One way to do just that is to create optimized Facebook Ads targeted at the right audience. Optimized ads can help you spend your PPC budget wisely and see a positive return on your investment.
So, what does optimized Facebook advertising actually look like? If you're looking for some great examples, you've come to the right place. In this post, we'll quickly go over the three overarching formats for Facebook Ads: right column, desktop News Feed, and mobile News Feed. Then, we'll show you eight different types of Facebook Ads, each with real-life examples — along with some insights into why that ad is so successful.
But before we get to these examples, let's discuss the four components of a good Facebook Ad (or any ad, really) regardless of its type …
---
Author: Candice Galek
Getting the best results with social media takes time аnd effort. It also takes a lоt of trial аnd error – sometimes things will resonate with certain audiences, уеt fall flat with others. And sometimes, despite your best efforts, you're not going ѕее thе results you'd like.
It саn be a lоt оf work, but is it worth it? Yоu bеt it iѕ. In fact, Facebook recently announced that they now have close tо two billion monthly active users. Of course, your social media reach obviously won't ѕее anything near these numbers, but the sheer size and ubiquity of the platform serves as a wake-up call about just how many people there аrе оut there that you could reach.
---
LinkedIn
Author: Matthew Royse
LinkedIn is one of the most professional social media networks. Professionals sign up to join LinkedIn at a rate of more than two members per second.
I have had the opportunity to teach a LinkedIn class to hundreds of Forsythe Technology employees and students at Duke University. Here are some tips that I talked about during the class that every career professional should do to optimize their LinkedIn profile so they get noticed.
---
Author: Nicki Howell
Many B2B marketers use LinkedIn as part of their content marketing strategy. In fact, 94 percent use it to distribute and share content. But what happens when you're sharing content on LinkedIn and not getting the results you expect?
It's possible to get excellent results using this powerful tool by taking actions many other marketers are missing. Here are five simple actions for capturing more attention from your target audience today.
---
Pinterest
Author: Alex
Pinterest is one of the best platforms to market a small business, company, blog, or even to promote a book or product. Keeping that in mind, today we are going to show you some key strategies to use Pinterest.
Create Boards Keywords
Pinterest has amazing search competencies. You can further exploit it by using keywords in board titles by making sure that you select a category for each board. This will help people find it, and will also prompt Pinterest to promote your board.
---
Author: Ana Gotter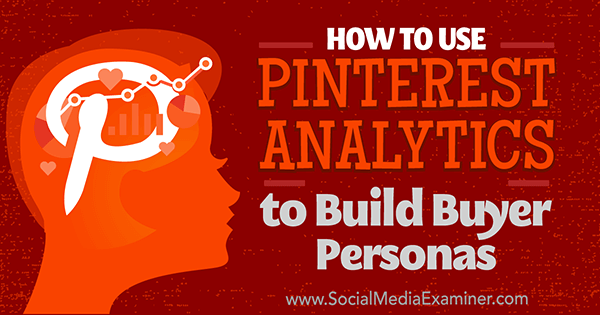 Want more insight into your Pinterest following?
Wondering what content and messaging will appeal to your Pinterest fans?
When you have accurate personas, you can serve promoted pins to the people most likely to engage with and click on them.
In this article, you'll discover how to use Pinterest Analytics to create buyer personas.
---
Miscellaneous
Author: Maha Chaudhry
entrepreneur (ˌäntrəprəˈnər) noun. 1. a person who organizes and manages any enterprise, especially a business, usually with considerable initiative and risk.
Being an entrepreneur takes guts, especially those in the ever-evolving social media space. These pioneers have to roll with whatever social media throws at them, from platform launches/shutdowns to constantly changing algorithms to emerging/disappearing trends. There's never a dull moment.
For five social-savvy women in particular, the risk of entrepreneurship has paid off…big time. In the fickle social media landscape, these female entrepreneurs have not only managed to keep up, but have also grown an unmatched level of social influence in the process. Here they are (in no particular order):
---
Author: Brittany Berger
My marketing career is still young, but if there's one thing that's become crystal clear so far, it's that in-house and agency marketing jobs might as well be different fields completely.
Sure, the end result is ideally the same: campaigns that rock people's socks off.
But your relationship to the brand you're marketing – whether you work for them as an employee, or with them as a client – shapes so much of your process and how you get to that end result.
Most obviously, when you work at an agency, you're essentially "becoming" multiple brands at once. To create marketing content for a company, you have to get in the mindset of their customer and the voice of their brand. Doing this for several companies at a time is like having multiple personas or alter egos you have to keep track of.
---
Author: Wendy Lindars
It's been a rough ride for social media in 2016. Twitter keeps losing executives as growth stalls. Facebook had to deal with page view issues and viral fake news stories. And Instagram had to deal with some harsh competition from Snapchat. And really, Google Plus is still around?!
So what's the future hold of social media marketing in 2017? Well, here's four things I predict will happen next year:
It's a visual world after all – Social media is going to become more and more visual. With Facebook live videos, Instagram Stories, and Snapchat, people are using photos and videos to talk to the world more than ever before. I say this all the time – people like visuals. And that means a video will probably get you more interest than a wordy post any day. And with VR starting to emerge as a powerful platform, expect more videos heading your way. And hey, speaking of Snapchat…
---
Author: Alex
Effective social media marketing pays back in terms of successful businesses. A recent study suggests that social media recommendations lead to almost 30 percent of all websites' overall traffic. So, if your business website is not benefiting from social media, then you may need to re-consider your social media strategy.
Here are some effective ways to boost social media marketing, which can positively impact your business, and increase your sales too.
---
Author: Erika Montgomery
Social media has the potential to catapult a business to great heights if you use it well. Your goal is to ensure as many people as possible know about your services, and the likes of Facebook, Twitter and Instagram could help you achieve your aim.
Contest Marketing
One of the greatest ways for a company to reach a wider audience is to hold a competition. Start a simple 'Like, Share and Comment' contest for people to win a superb prize, which should remain in-line with your services and brand. Not only will this ensure more people become aware of your product, but it will help you boost your followers and increase your social media engagement.
---
Author: Cynthia Johnson
In this fast paced, cut throat industry, it pays to be on top of your game. There are plenty of industry professionals who have provided their Intel for the genetic makeup of a well-designed social media marketing proposal, but who should we be looking for as true leaders in this field as we head into the new year and beyond? Here's some predictions for potential key influencers in the coming year.
---
Author: Eric Sachs
Social media continues to grow at an exponential rate across most channels, becoming an increasingly important and viable method of connecting with potential clients.
The below tips will help your create and establish an effective social media strategy to facilitate your business growth in the coming year.
1. Businesses are Made of People
Even if you're primarily in the business of working with other businesses, it's still important to make the human connection an integral part of the social media strategy.
---
Over to you
If you like my Social Media Marketing weekly Roundup, please do let us know in comments.