The Weekly Social Media Marketing RoundUp- 2nd January
10
min read
First of all I would like to inform all of you that Optimize Marketing has been featured in "The 10 Best Social Media Roundup Blogs of 2016" by Agora Pulse. And would like to wish every reader a very HAPPY NEW YEAR 2017.
Coming back to this week's edition of social media marketing roundup, I've included blog posts on Twitter, Instagram, Facebook, Linkedin & Pinterest. As always, I've also included some miscellaneous posts which are going to help you to develop your overall social media strategy.
We are covering the launch of latest feature by Twitter for both of its platforms. As video has ruled social media last year, Twitter has launched Live 360 Video to remain in the game.
I've focused on how to get better ROI with Facebook Ads, so both the posts are regarding that only.
It's been a while since Instagram has launched Live feature, but marketers are still learning how to use it for their business. So, I've included one post on this topic only.
However, there's one post which I would recommend is in the Miscellaneous section which curates "Top Social Media Marketing Tools for Business", don't forget to check them out!
Twitter
Author: Candice Galek 
Twitter is one of the most visited websites in the world. It's also one of the most misunderstood, because it's different from many of the social platforms available, in that its focus is on public conversation and exposure.
If you understand how it works and how to market on Twitter, however, it can drive you a ton of traffic, build your brand and make you more money.
Below are nine tips that will help your business succeed on the platform.
---
Author: Kristi Hines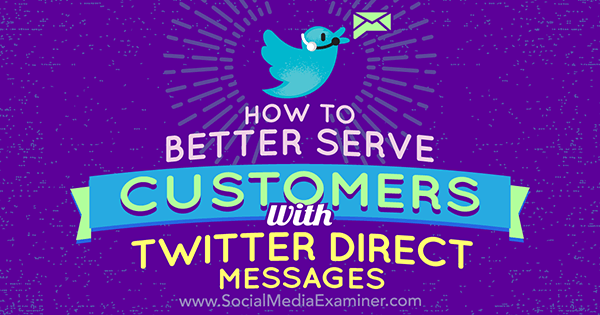 Looking for ways to improve customer care on Twitter?
Do your customers tweet you for support?
Moving customer service discussions to private Twitter Direct Message (DM) threads can help your support team quickly resolve issues.
In this article, you'll discover how to use the latest Twitter Direct Message features to improve your customer service.
---
Author: Andrew Hutchinson 
At Twitter's recent #WhatsNext event – in which they outlined the future developments coming for the platform – the company's VP of Ad Development John McFarland noted that they were working on 360 video, saying that they had something in development which was "better than what we're seeing today" in regards to 360 content.
Today, we have the first vision of that product, with Twitter announcing that live 360 videos are now available on Twitter and Periscope.
---
Instagram
Author: Kristi Hines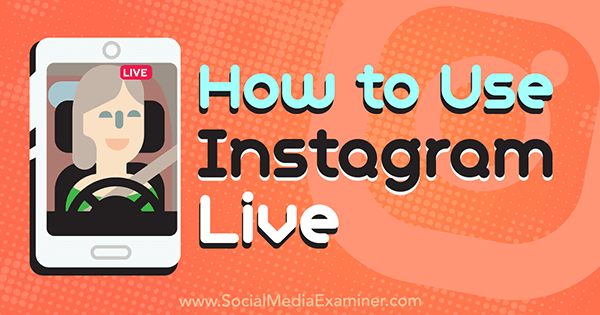 Interested in adding live video to your Instagram stories?
Looking for a guide to get you started?
The latest update to the Instagram app includes Live video, a new feature that lets you connect with your Instagram audience in real time.
In this article, you'll discover how to use Instagram Live video within Instagram Stories.
---
Author: Stacey Marone 
Most businesses rely on top-quality blog content for search engine optimization (SEO) to make themselves stand out. In terms of site promotion, SEO is still the most effective approach out there. However, text is not the only way to go. Many consumers like photos and videos just as much as a great article, which is why visual media is on the rise.
---
Facebook
Author: Joshua Nite 
Gather around, children, and let me tell you a story of Facebook advertising in the long-forgotten year of 2012. In that gilded age, whenever your page posted an update, up to 20% of your followers would see it in their feeds organically.
It was a simpler time. A gentler time. And a time when Facebook took in a lot less revenue from advertisers.
Then in 2016, organic reach fell off the cliff (Or was it pushed?), sinking to as low as 2% of a page's followers.
---
Author: Julia Bramble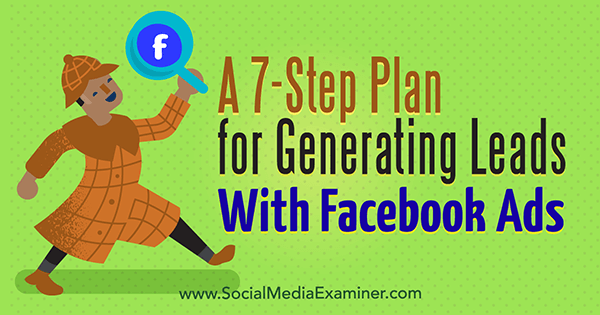 Do you want to generate more leads from Facebook?
Interested in using Facebook ads to promote a lead magnet?
Facebook ads are a great way to build a database of people who are interested in what you offer, because the reach and targeting options are exceptional.
In this article, you'll discover how to set up a lead generation system with Facebook ads.
---
LinkedIn
Author: AJ Wilcox 
While consulting with companies on their LinkedIn advertising initiatives, I routinely get asked, "How should I bid? CPM or CPC?"
I very quickly noticed that my response is very different from "conventional wisdom." When I hear others asked this question, I repeatedly hear, "It depends on your goals."
These misguided souls go on to explain, "If your goal is brand awareness, bid for impressions (CPM). If your goal is direct response, bid for clicks (CPC)."
---
Author: Mario Martinez Jr. 
LinkedIn Sales Navigator is the company's social selling platform which provides a range of tools that focus on helping you find the right prospects to build trusted relationships.
By learning and leveraging the different features of LinkedIn Sales Navigator, you can build your personal and professional brand and develop relationships with the leads most relevant to you – and with a range of the platform's advanced search features now being integrated into Sales Navigator exclusively, now is the perfect time to take a closer look at it's benefits.
Here are the three filters and features of the tool that can help ensure you spend your time wisely when socially engaging.
---
Pinterest
Author: Kristi Hines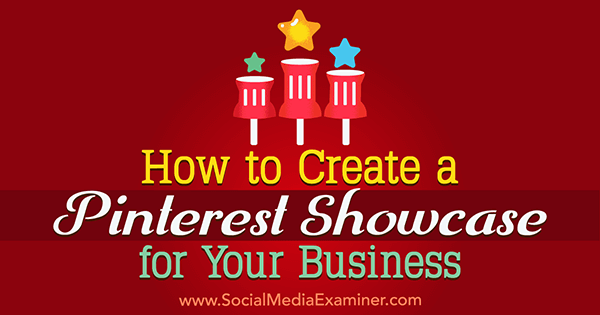 Looking for a new way to show off your best pins?
Want to try Pinterest Showcase?
Pinterest showcases allow businesses to rotate select pins at the top of their profiles.
In this article, you'll discover how to build a Pinterest showcase for your business profile.
---
Miscellaneous
Author: Elna Cain 
Running a social media marketing campaign can be a daunting and time-consuming task. With so many platforms available, and with each one often requiring daily attention, you may not know where to start.
Luckily, there are plenty of quality tools available to help you manage your social media marketing. From multi-platform scheduling tools to blog idea generators to graphic design apps, you can find everything you need to get started in this list. And best of all, you don't need to spend a cent, if you don't want to.
---
Author: Alan Cassinelli 
Snapchat vs. Instagram: A rivalry as old as time. Well, almost.
There have been a lot of discussion this year about who'll eventually win the battle between the two social media giants, and while out of the gate it looked like Snapchat would eventually be declared the victor, Instagram has been leading a charge to take some of Snapchat's best features and… well, copy them.
However you slice it, these two platforms are what many think are the future of social media. In this post, we want to break down what each platform is, and more importantly, what it can offer to brands who are looking to connect with their ideal consumers.
---
Author: Joseph Carey 
Humanizing social media marketing is an art, and it's hard to master.
But not everyone instills a human element into their social media marketing, primarily because people consider it unimportant. After all, there are chatbots to answer queries and respond to complaints.
For your online brand, be it blogging or dealing in the actual sale of products, you have to interact with your audience. The reason is because people sitting on the other end don't feel cared for.
---
Author: Warren Knight 
There are 7.395 billion people in the world. 46% of the world's population are internet users, and 31% are active Social Media users.
The world has changed, and will continue to change as we move through 2017. Social Media is more important than ever before which will not change, but what we look for, as consumers, and what we want from Social Media will change.
For the last article of 2017, I am going to share with you some of the top Social Media marketing trends that I think will be important throughout the year of 2017.
---
Author: Rhonda Bavaro 
9? Why not 10 Social Media Bad Habits? Number 10 is reader's choice.
I have a love/hate relationship with social media. I've seen it bring out the best in people, revealing their softer side – their positive worldview, loyalty, and kindness. I've also seen it bring out people's less than admirable qualities – passive aggressive tendencies, anger, negativity. Social media has the ability to drain my time (because I let it) and suck the soul right out of me (because I fall prey to the cynicism). Yet, I can say without hesitation that my businesses and my personal life have benefited from social media in immeasurable ways.
---
Author: William Craig 
Have you finally wrapped your head around savvy marketing practices for targeting millennials? Too bad! The next generation is just now achieving financial independence, and that means writing a whole new rulebook for how to engage with customers.
It seems a lot of businesses aren't quite sure how to market to Generation Z, made up of young adults between the ages of 13 and 19. Many marketers in the world today assume millennials and Generation Z can be catered to in similar ways, but the two segments are actually very different.
---
Author: Emily Copp 
Want to reach a truly global audience? We all know the big name social networks for English-speaking audiences—Facebook, Twitter, Snapchat, etc.—but what about ones that are popular in other regions around the world?
There are lots of social networks used around the globe that can teach us a thing or two about e-commerce, virtual reality, and the future of messaging. We've listed some popular networks to give you the insight you need to take your social media strategy global.
---
Author: Brad Friedman 
If you've played the "follow game" on social media, you probably have a lot of followers but few social shares. People may easily follow you back, but they won't so readily retweet your tweets, re-post your content on their social feeds, or like your posts.
In order to receive social shares, you need to make your content shareable.
There are many ways to get more social shares on social media – here are five easy tips you can implement immediately.
1. Research Trending Topics
An easy way to receive more social shares is to research trending topics and create your own content based on those trends – so long as they're relevant to your audience. If Justin Bieber has nothing to do with your business, then leave that trend alone.
There are several tools, like BuzzSumo and PostReach, you can use to discover the trending topics within your industry or niche.
---
Author: Dominique Jackson 
With the year coming to a close, it's time set your eyes toward 2017. What social media tactics and strategies do you have planned for the new year? In order to help get those creative juices flowing, we've put together a list of some of the top social media marketing examples of 2016.
Instead of copying these examples, use them as inspiration. Think of how your brand can work outside the box to put together creative campaigns and reach your social media goals for next year.
---
Over to you
If you like my Social Media Marketing weekly Roundup, please do let us know in comments.