The Weekly Social Media Marketing RoundUp- 21st August
In this edition of social media marketing roundup, I've included blog posts on Twitter, Instagram, Facebook and LinkedIn. I've also included some miscellaneous posts which help you to develop you overall social media strategy.
Twitter
Author: Andrew Hutchinson | Social Media Today
If you haven't noticed, there are a heap more tweets being shoved into your Twitter timeline these days, either from people you don't follow or from people you do follow, but content you wouldn't normally see (like their replies to others). And there's good reason for that – as per Twitter's latest earnings results, putting heavier emphasis on showing people more relevant tweets is helping to boost engagement, despite overall audience numbers stalling.
Highlighting tweets based on your noted interests is making Twitter smarter, more attuned to each user – and therefore, more able to keep you on Twitter for longer.
---
Author: John Haydon | Social Media Today
Is your Twitter profile follow-worthy – or are you unknowingly turning people away, leaving them confused or unimpressed?
Your Twitter profile very is different from many other social profiles. On Facebook, LinkedIn, and other social networks, you have lots of space for your bio, links, and other elements.
Not so with Twitter:
---
Want to manage your Twitter account like a pro? Unfollow your non followers, inactive users & spam following users with a powerful tool ManageFlitter. I'm also using ManageFlitter to optimize my Twitter account regularly. You can register for ManageFlitter by visiting this page.
---
Instagram
Author: Sophia Dagnon | Agora Pulse
Truth time. Have you read the Instagram terms of use? Be honest with me. Yeah. Up until I sat down to write this post I hadn't either… They aren't exactly fun light reading. Plus, by the time I started using Instagram, I'd already signed my first born over to Facebook Rumpelstiltskin anyway…
It turns out that Instagram has some pretty strict rules about certain things.
If you break these rules, you can get shadow banned or have your account suspended. But enough with the suspense! Let's take a look at what these Instagram rules actually are.
---
Author: Alfred Lua | Buffer
More than 700 million people use Instagram and 400 million of those users check the app daily.
With such a large audience, and some incredibly business friendly updates such as Instagram Ads, Stories, and Business Tools, Instagram is becoming a must-have channel in many social media marketing strategies.
So how can you stand out from the crowd and grow your Instagram following?
We've previously shared proven tactics for growing your following and easy ways to increase your organic reach. And this time, we would love to share a big list of free Instagram tools that'll help you to grow your following.
Going beyond the usual photo editing tools, we'll also be sharing tools for finding the best hashtags to use, running Instagram contests, displaying your Instagram posts on your website, and more.
Let's dive right in.
---
Author: Gina Cai | Social Media Explorer
The millennial generation is the first to spend more time on social media than on traditional media channels such as television or the radio. This generation of young and tech-savvy consumers engages with social media much differently than an older audience would. Millennials demand instant access to information, chase after the newest trends, and seek greater control over the information they acquire. One of the best social media platforms to target young consumers is Instagram, which has acquired over 700 million users, 60% of which are millennials. To better understand how to effectively target millennials on Instagram, here are three useful tips that marketers can use to get their attention.
---
Author: Neil Patel
Do you want to start an Instagram campaign?
If so, you need to do it right.
Instagram is an exciting platform, and it's one of the fastest growing out there. It has more than 300 million active users each day, according to recent data published by Branex.
But beware: Running an effective campaign isn't quite as easy as it seems.
Every platform is unique, and Instagram is no exception. To land a campaign successfully, you're going to need to understand what factors Instagram's users are looking for.
I've done a lot of work with Instagram, and I'll explain exactly what works in this article.
---
Author: Dominique Jackson | Sprout Social
The most successful brands on Instagram have one thing in common—they know their audience. When you understand what your target audience wants, their pain points, how they talk and who they are, it's a lot easier to market to them. But the question is how do you find all of this out?
The easiest place to start is your Instagram follower analytics.
If you're not tracking data on your audience yet, you're likely missing out on some extremely valuable information that can dramatically improve your Instagram marketing strategy. Here are five crucial questions you can answer by using Instagram follower analytics tools:
---
Author: Melonie Dodaro | Social Media Today
In case you hadn't yet heard, Instagram now has 700 million monthly active users, making it one of the most popular and heavily used social media platforms.
In fact, some 48.8% of brands are already using Instagram for business and 80% of Instagrammers follow one or more businesses on the platform.
With such wide spread use and activity, it's become paramount for businesses to consider adding this visual storytelling platform to their social media strategy. With features that include the ability to add photos, videos and to complile the two together via Instagram Stories, as well as the capacity to like, comment and send direct messages, this platform can be an ideal way for your business to connect and build relationships with your customers.
Here's a helpful infographic that covers the information you need to know to create your own Instagram strategy and the steps to get started.
---
Facebook
Author: Nicole Blanckenberg | StoreYa
Since our how to hack Facebook's custom audiences for big payoffs post, we've had a lot of feedback from business owners wanting to know more about Facebook Dynamic Product Ads – or DPAs – and how they can cash in on the action. Why the big buzz? Facebook Dynamic Product Ads allow advertisers to dynamically generate product catalog ads and show specific product ads to specific users depending on which products they may be more interested in. Plus, with the use of lookalike audiences, you can find tons of potential shoppers who are interested in what you're selling.
---
LinkedIn
Author: Andrew Hutchinson | Social Media Today
With more than 500 million members, and a focused, professional audience base, LinkedIn is a must for most companies, but especially those in the B2B sector. But developing a presence on LinkedIn can be hard – LinkedIn is not Facebook, it's not Twitter. You don't win on LinkedIn by being the most entertaining or posting the best photos (necessarily).
So how do you maximize your LinkedIn efforts – what should you be publishing to your LinkedIn company page?
LinkedIn's excellent content team have created this new guide on what to post – the original version is available in SlideShare form but we've put it together into an infographic below.
---
Author: John Nemo | Business 2 Community
With 500 million members in 200 countries, determining the best time to post on LinkedIn can be tricky. Here's what to do.
Creating and sharing free, valuable content that helps a niche audience solve some of their biggest professional problems is how you set yourself apart from the competition on LinkedIn.
It's is the price you must pay to get in front of your ideal audience and demonstrate your worth as opposed to those who just claim it.
So what exactly is the best way to capture the time, interest and attention of your audience on the worlds largest network for professionals.
---
Author: Viveka von Rosen | Social Media Examiner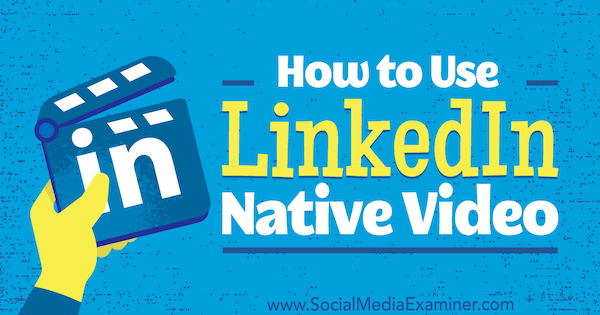 Do you want more video views from LinkedIn?
Wondering how uploading native video can help?
Using the mobile app to record and share original, autoplay video directly on LinkedIn can boost views and engagement for your content.
In this article, you'll discover how to upload and share native video on LinkedIn via the mobile app.
---
Miscellaneous
Author: Patrick Foster | Jeff Bullas
It's ridiculously easy for a brand to get started on social media.
But it can also be ridiculously hard for a brand to master the art of the social news feed – not to mention navigate bad feedback and foster relationships with followers.
To help you out, this post will cover 4 quick and easy social media hacks to explode your audience growth.
---
Author: Rob Mathison | Hootsuite
While you can boast about your own product and service, social media advocacy is a better way to spread the word. It involves using third-party cheerleaders, known as brand advocates, to promote you through their own social media channels.
It's an extension of that age-old tactic: word-of-mouth marketing, and it's a great way to generate those all important meaningful relationship moments.
Building your own social media advocacy program and recruiting brand advocates doesn't happen overnight. We've put together a guide to getting started with using social media for advocacy, including some brand advocacy examples and best practices.
---
Over to you
If you like my Social Media Marketing weekly Roundup, please do let us know in comments.