Social Media Marketing Weekly RoundUp- 23rd October
7
min read
In this edition of social media marketing roundup, I've included blog posts on Twitter, Instagram, Facebook and Pinterest. I've also included some miscellaneous posts which help you to develop you overall social media strategy. Don't forget to check the "Must Read Content" of the week, it's a list of most powerful tools which can automate your Instagram posts.
Must Read Content
Instagram is becoming an important part of social media marketing strategy of every organization. The reason of the attention which Instagram is getting is the growing number of users.
If you haven't thought seriously about Instagram, then let me tell you that according to latest data there are more than 15 Million registered business accounts on Instagram. And it has a staggering 1 Million Active Monthly advertisers which is becoming larger as it is owned by largest social media company of the world, Facebook.
As far as, number of users on Instagram is concerned, following statistics will amaze you for sure:
---
Twitter
Author: Susan Gilbert
Today I have some resources to help you get your Twitter marketing strategy back on track. Here's four links with tips and tricks to kick start your Monday.
Generating leads and sales through social media is most effective when you take advantage of staying active on the major platforms. In order to reach more people you need to be where they are engaging. Twitter is still a great place to make new connections and bring more eyes to your products or services. Would you like to ramp up your Twitter marketing, but don't have the right tools? Use these resources and let me know how these work for you!
---
Want to manage your Twitter account like a pro? Unfollow your non followers, inactive users & spam following users with a powerful tool ManageFlitter. I'm also using ManageFlitter to optimize my Twitter account regularly. You can register for ManageFlitter by visiting this page.
---
Instagram
Author: Donna Moritz | Socially Sorted
Instagram Stories is getting better and better. It's just reached 250 million monthly users and is not showing any signs of slowing down. It's an engaging way to connect with your audience and (so far) an easy way for them to see your content. I wrote about some of the features here in this post about Instagram Engagement.
Instagram Stories also feature high up on the newsfeed, so the chances are (while not everyone is making stories) you'll get seen. Your followers are more likely to see your post in stories before they see your actual newsfeed post – so there are plenty of opportunities to be creative with it.
So let's jump in and take a look at some savvy ideas from savvy brands using Instagram Stories for Business.
---
Author: Alisa Meredith | Tailwind App
Instagram Stories – little photo or video snippets of your life that disappear in 24 hours are perfect for sharing behind-the-scenes looks into your business or products. Now, Instagram Story Polls make it even easier (and more fun) to get more engagement and increase the reach of your content.
Instagram Stories were already a powerful tool for increasing engagement, and if you are fortunate enough to have access to Links in Instagram Stories, you have no doubt about that. Our website traffic from Instagram increased exponentially when we got that feature. And the effect hasn't dwindled as time has gone by and more people have access to it.
---
Author: DhariLo
There are so many successful accounts on Instagram – but what can we attribute to their success? Over the past 7 years I've worked with many different businesses (including my own personal brand) to grow Instagram followings and increase engagement. This week we'll take a look at what you can learn from the best Instagram accounts.
1. Post Consistently
You might be tired of hearing this but one of the most basic things you can learn from the best Instagram accounts is to post consistently. Remember that you're competing to get the attention of your audience and with so many profiles out there you can't count on posting once a month and retaining your followers and engagement. Hitting the post frequency sweet spot will vary from business to business but posting at least 3 times a week is a must to stay in your followers' minds (and feeds).
---
Author: Peg Fitzpatrick
Do you love Instagram? And YouTube? But never thought about using them together? Instagram is fantastic for brand awareness and bringing people to your YouTube channel. Can you build your YouTube channel with Instagram? Absolutely!
I recently met up with YouTuber Salma Jafri at INBOUND in Boston where she interviewed me about Instagram. I shared some great ways to use Instagram with YouTube.
---
How are you managing your social media profiles? I'm using Hootsuite to manage all my social media profiles. You can post & schedule all your posts from one single platform to save your time. If you're still not sure, why not sign up for 30-Days Free Trial by clicking here.
---
Facebook
Author: Molly Pittman | Digital Marketer
Sometimes one little button can make all the difference in the world.
Case in point: these three Facebook ad case studies.
In each of the three Facebook ad tests you'll see in this post, I'll explain how clicking one little button can dramatically change the performance of your ads.
So, if you'd like to increase your return on ad spend (ROAS) by 245%…
Or improve your cost per lead (CPL) by 41% or 55%…
Pay attention.
You'll see how we did it by changing just a single campaign setting inside of Facebook.
---
Author: Neil Patel
Facebook's growth has been nothing short of incredible.
They recently hit more than two billion monthly active users, and that number is continually growing.
It's the most popular, most used social media platform out there.
Which means it's no wonder that it's home to more than 2.5 million advertisers and 50 million small business pages.
But with those large numbers come dangerous impacts on organic-based traffic on Facebook.
As advertising numbers and revenue increase, Facebook has less incentive not to push advertising on the rest of us.
If you're still depending on Facebook fans for organic traffic to your content, you've probably started to notice this decline.
---
Author: Peter Dulay | Mention
Facebook has almost 2 billion users on whom they're constantly collecting data. With every update, post, check-in, comment, and like, Facebook stores information. Because of this, Facebook has essentially become a marketer's library, where you can find your customers and present offers that resonate with them.
But with that giant database of information, and the advanced features available to choose from, it's easy to make mistakes. If you're not getting the click-throughs and conversions you were expecting, there are some common issues you may be having.
---
Author: Paul Bingham | Jeff Bullas
One thing we can all agree on: the amount of video consumed online has grown at an incredible pace in the last two years, and is set to grow even further.
Here's the projection: 75% of all mobile data will be video by 2020. And driving this is the huge growth in Facebook users and Facebook's move to become video-centric.
The world is fast embracing video primarily on mobile devices. This presents an enormous opportunity for savvy marketers. But the old rules don't apply. What do you need to consider when looking at your Facebook video ads and videos on other platforms?
We've put together 6 tips to ensure you produce the best Facebook video ad you can.
---
Author: Bill Widmer | Social Media Examiner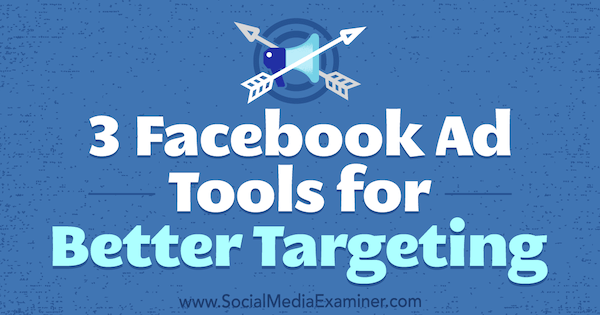 Want to refine your Facebook ad targeting?
Looking for tools to better identify your most valuable Facebook customers?
In this article, you'll find three tools that give you a more complete picture of whom your ad audience is, what they're doing on your site, and how much they're worth.
---
Miscellaneous
Author: Laura Donovan | Business 2 Community
Social Media Marketing has become a powerful tool for increasing exposure, growing a business, and generating revenue.
However, there is a line between using Social Media personally versus using it professionally and sometimes business owners don't see this line. Here are 5 things a business should not do while using Social Media to promote their products/services.
1. Only Posting Promotional Material
---
Author: Dominique Jackson | Sprout Social
What are your top performing Tweets? What time of day do your Instagram posts get the most engagement? Is your Facebook marketing strategy translating to traffic and leads? If you're not using social media analytics tools, you'll probably have a hard time answering these questions.
By now, most marketers understand the need for tools to measure their efforts. But as social media marketing has grown, the number of tools available to analyze your efforts has skyrocketed. At one point, you could probably name all the major social media analytics tools out there. Fast forward to today, and it seems like there's a new tool released every day.
---
Over to you
If you like my Social Media Marketing weekly Roundup, please do let us know in comments.