Social Media Marketing Weekly RoundUp- 6th August
In this edition of social media marketing roundup, I've included blog posts on Instagram, Pinterest and Facebook. I've also included some miscellaneous posts which help you to develop you overall social media strategy. Don't forget to check the "Must Read Content" of the week, it is about social media automation.
Must Read Content
Author: Emeric Ernoult | Agora Pulse
Social media automation can be evil.
But it can also be a life saver.
In the above blog post, I mostly got angry at the "set it and forget it" mentality some people promote.
If I had to summarize what "bad" automation is, it would probably come down to this: if an automation tool is used to "set it and forget it", then, it's probably taking you to the dark side of automation.
What then is "good" automation?
To put it simply, "good" automation is automation that helps us do something we'd do manually if we couldn't automate it (as opposed to something we'd never do manually anyway). Let's see what that might entail.
---
Want to manage your Twitter account like a pro? Unfollow your non followers, inactive users & spam following users with a powerful tool ManageFlitter. I'm also using ManageFlitter to optimize my Twitter account regularly. You can register for ManageFlitter by visiting this page.
---
Instagram
Author: Mitt Ray | ShoutMeLoud
Have you heard about Instagram's new app, IGTV? Well, I am sure you have. But, would you like to learn all about its launch, how it works and how to build your presence on it?
I don't doubt that you do.
Instagram was launched in 2010, but the video feature wasn't introduced until 2013. At first, you could only upload clips that were up to 15 seconds long. The duration was then raised to 60 seconds. But now Instagram has launched a new app called IGTV where you can upload videos that are up to an hour long.
IGTV will help Instagram compete better with social networks like Facebook and YouTube. Statistically, 45% of people spend more than an hour watching videos each week on both these networks.
---
Author: Kim Garst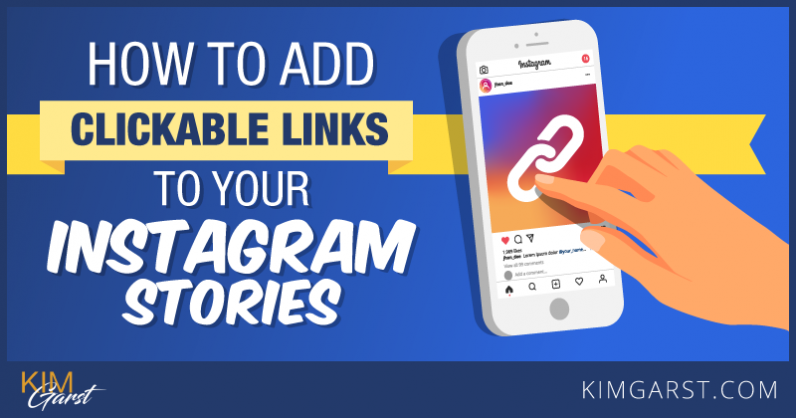 Have you seen Instagram stories that have a "See More" link at the bottom? If so, you've probably wondered how you can add these links to your own stories! Being able to add links to your Intagram stories is flipping HUGE! It's a simple way to let your viewers swipe up and go to whatever you are directing them to…it's a great way to drive traffic to specific things!
This post will walk you step by step through the process of adding links to your stories, so you can drive traffic to your website, blog or store.
Note: Here's the bad news…adding links to stories isn't yet available to everyone. You have to have 10,000+ Instagram followers to have access to this feature. Hang on tho…it's coming to all soon!
If you don't happen to have 10,000 Instagram followers, here are a few simple tricks to get around this…
---
Author: Lucy Hitz | Sprout Social
Instagram influencers are flooding the feed, but which trendsetters are the best advocates for your brand? And whose popularity translates into better results? Here are eight ways to measure and benchmark your performance when using Instagram influencers.
Before brands plan their social media marketing budgets, it's important for them to question their own performance and ask how they want influencers to meet their goals.
---
Pinterest
Author: Kristie Hill | Tailwind
Pinterest is the perfect platform for marketing your products (digital or physical), and the best way to get your products seen on Pinterest is by using Rich Pins! Anyone can utilize this powerhouse feature to more effectively promote their products on Pinterest.
Product Rich Pins take an ordinary Pin and make it actionable. Pinners can see that this image it is more than inspiration – they can actually purchase this item and use it themselves!
Rich Pins are Pins with extra information added to the Pin itself. For products, this information could include the price, availability, description, and where to purchase. This information comes directly from your website's product listing.
In the feed, Product Pins include a little shopping tag icon under the image and next to the seller name.
---
Facebook
Author: Syed Balkhi | Business2Community
Facebook is the most widely used social media platform with 1.45 billion active daily users; the platform is an amazing opportunity for you to find a ton of potential leads who you can convert into customers.
But you can't just post some photos on your Facebook business page and expect to receive an explosion in traffic and sales. There are a ton of ads on Facebook and a lot of users ignore them, so how do you stand out from the crowd and convince users to pay attention to you?
The answer is to create a Facebook marketing campaign, and there are some can't-miss strategies that will help you reach the success you're looking for. Let's take a look at how to create a Facebook marketing campaign that boosts ROI.
---
Author: Lucas Elliott | JonLoomer
I've written previously about reporting on reach using Facebook Insights, both at the Page Level and the Post Level. Now we'll dive into reporting on Facebook Paid Reach using Facebook Ads Manager.
We'll address some of the pitfalls in reporting inaccurate data, and how to identify Reach Overlap at the Ad, Ad Set, and Campaign levels.
Remember that reach is a measure of unique users. One of the most common mistakes is to simply add numbers together (for different ads, ad sets, or campaigns), and presume that you have total counts of the people reached.
However, since reach should be a measure of unique people, there are safeguards to ensure that your overall counts are accurate (or at least as accurate as possible for a measure that is estimated).
Luckily for us, Ads Manager has some built-in tools to help us better understand reach. We can use these to avoid common reporting mistakes and identify interesting insights.
---
Author: Lucy Hitz | Sprout Social
The updated Facebook algorithm favors community and conversation-building over passive consumption. This forces many brands to make a fundamental shift in how they craft campaigns and content, so that their brand will show up in user feeds.
One way to connect with your audience on Facebook in 2018 without increasing ad budget is to create and participate regularly in Facebook Groups. Facebook Groups offer your fans a place to rally around your brand and/or topics that are near and dear to their hearts. Here are some tips to keep in mind.
---
Miscellaneous
Author: Lucy Hitz | Sprout Social
Working with social media influencers, especially on Instagram, is a tried-and-true method that many brands and companies have worked into their marketing plans to increase their ROI, broaden their reach, and boost their reputations. Often, though, companies are unaware of how to begin working with social media influencers. Here, we'll address strategies for reaching out and extending offers to specific kinds of influencers.
Assess Who Your Influencers Are
Before you can figure out how to get an influencer on board, you first must understand what kind of influencer he or she is, to determine the best ways to reach out and partner.
There are two types of influencers: micro-influencers and macro-influencers.
---
Over to you
If you like my Social Media Marketing weekly Roundup, please do let me know in comments.