Social Media Marketing Weekly RoundUp- 13th August
In this edition of social media marketing roundup, I've included blog posts on Twitter, Snapchat, Pinterest and Facebook. I've also included some miscellaneous posts which help you to develop you overall social media strategy. Don't forget to check the "Must Read Content" of the week, it is about YouTube taking over the spot of 2nd most visited website in US dethroning Facebook.
Must Read Content
Author: Amanda Zantal-Wiener | Hubspot
A new study reveals that there may be a shakeup on the list of the top five U.S. websites.
According to research conducted by Market Intelligence Central, the top highest-visited websites in the U.S. have largely held steady for a few years. That order is as follows:
Google
Facebook
YouTube
Yahoo
Amazon
But now, YouTube is poised to surpass Facebook for the #2 spot.
According to this research, Facebook.com has seen a loss of roughly 2.8 billion visits each month over the past two years.
---
---
Twitter
Author: Nikki Richard | Busibess2Community
While Twitter might appear to be dipping in popularity among casual social media users, its value for businesses is still undeniable.
But that's not to say that Twitter is the same as it's always been. Due to algorithm updates to evolved user tendencies, simply getting content into news feeds doesn't work like it once did.
For your business to really leverage Twitter and make it a valuable investment for your brand, you're going to want to emphasize a few of the following features:
---
Want to manage your Twitter account like a pro? Unfollow your non followers, inactive users & spam following users with a powerful tool ManageFlitter. I'm also using ManageFlitter to optimize my Twitter account regularly. You can register for ManageFlitter by visiting this page.
---
Snapchat
Author: Kushal Shah | Juff Bullas
Over the last two years, Snapchat has become an influential social media platform with over 150 million active users. Most business influencers use Snapchat to leverage their online presence, connect with followers and as a marketing tool.
Snapchat was initially built on the idea of posting pictures and videos for a few seconds. Right now you can share stories or memories which will be live for a day; this makes it a good platform for marketing your business.
The app has become an ultimate social network that inspires people to share stories with millions of users every day. There is always fresh content.
Marketers are currently taking advantage of the opportunities presented by the app to promote their business and create brand awareness.
Are you wondering how Snapchat can help build your business? Here are some tips for using Snapchat to build your brand and create a deeper connection with your audience.
---
---
Pinterest
Author: Kim Garst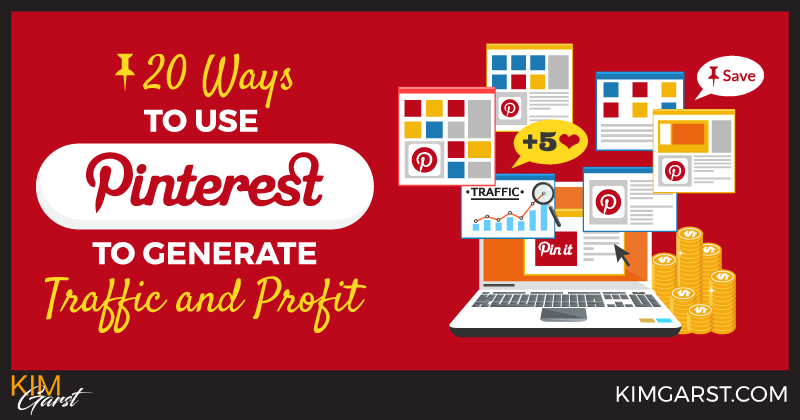 Are you using Pinterest, but aren't really sure if it's working to generate traffic and profit for your business?
Are you looking for strategies that will increase traffic to your site, and help you sell more products or services?
Then keep reading!
While some of the tips below will directly result in traffic and sales, others will help you indirectly by getting your pins seen, by increasing your Pinterest followers, or by helping you build your email list – all of which will ultimately have an impact on your bottom line.
Let's dive in!
---
Facebook
Author: Amanda Zantal-Wiener | Hubspot
Buffer, the maker of a social media management platform, released its findings from an analysis of 43 million Facebook Page posts.
In partnership with BuzzSumo, a content reach measurement tool, the company examined these posts from the top 20,000 brands on Facebook, to determine where things stand in terms of Page engagement — and what might be causing it to fall.
In January, Facebook updated its News Feed algorithm to prioritize content from friends and family over that from Pages, causing the reach of the latter to drop for many businesses.
Nearly seven months later, here's what Buffer discovered about where things stand. (Check out the full report here.)
---
Miscellaneous
Author: Neil Patel | Quick Sprout
Social media marketing is no longer optional for small businesses in 2018.
I see this problem all too often when I'm consulting small business owners. They have this mentality that social media won't benefit their companies.
"Our customers know who we are, and they know where to find us."
Does this sound familiar to you? Don't get me wrong: it's great that you have established a steady customer base. But using social media to market your small business will help you get more money from your existing customers in addition to acquiring new ones.
Failure to have an effective social media strategy can be detrimental to your small business.
---
Author: DhariLo
Social media marketing can be a great tool for building buzz around your event, but it can also be fantastic for driving engagement during and after your event too! Here are a few ways you can drive engagement using social media for events.
Before the event
It is important to drum up buzz to get people to come to your event. Using social media for events is an efficient way to drive excitement and educate your target event attendees. Here are a few ways you can use social media before your event:
---
Over to you
If you like my Social Media Marketing weekly Roundup, please do let me know in comments.