Live Chat Customer Support – Weekly Roundup 7th Novemver
Advanced customer experience programs use social media and live chat integration to deliver proactive service—and improve ROI in the process.
A recent survey of CMOs showed that, while big money is spent on social media, only 11.5% of companies are able to show the quantitative effects of social media on their bottom line.
Companies with the most advanced social programs are not simply sharing and commenting; the early-adopters of profitable social media programs leverage third party tools and technologies to implement, execute, and track sophisticated strategies.
Welcome back. In my previous blog post I discussed the friction points driving up customer effort and whether an omni-channel engagement strategy will help or hurt your customer effort score. In today's post I want to discuss why mobile makes the experience much harder.
Customer effort is felt most acutely in the mobile experience.
Customer effort is even more problematic when the consumer is on a mobile device. Thanks to the explosive growth of smart phones and tablets, consumers expect brands to address their needs with real-time relevance. They are used to instant access to price comparisons, product information and peer reviews. The mobile consumer has a greater sense of urgency and is usually multi-tasking while on the go.
Did you ever get really angry with a company? Chances are, you didn't get angry about the issue itself, but about the inhumane process through which it was addressed.
There are few things more frustrating than being at the mercy of a bureaucratic machine, going through rules and procedures that don't make sense, with service reps that don't seem out to help you.
I read an article by Rafe Sagarin that hit the sweet spot: "Customer Service Needs to be Either More or Less Robotic". He makes an analogy with the uncanny valley of robotics, which captures all that's wrong with today's state of customer support.
What we know now in the is that the 'E' in the E-commerce doesn't stand for 'Easy'. -John Hagel
To make a new customer for your E-commerce company is tough, but making a repeat business with the same customer requires diehard efforts. In this competitive industry, every company is offering a product of a same value. To make a difference and customer loyalty, you should make your customer not only satisfied, but also build his trust so that they can make a repeat business with the company without any hesitation.
So wondering how to get maximum business from repeated customers? Here are the top 6 hacks, which will be helpful to repeat business with a customer:
Providing the resolution of customer's query in quick time is a challenging task. Even the senior and well trained customer care representatives sometimes feel trouble to explain the troubleshooting steps to the customer. Because the customer is not tech savvy and he often feels difficult to navigate.
The co-browsing allows the customer to share the webpage with the agent. The agent can view and operate the screen and navigate at the same time the customer can see the live navigation of the agent. This makes the service hassle-free and saves the time. Co-browsing is the finest tool to provide the best customer service in the era of competition.
Below are 4 ways in which co-browsing can help your business for customer support:
For all the attention social media has received of late, "search" is still one of – if not the most – important traffic channels for local businesses.
It's easy to see why: local search is contextually and temporally relevant. It gives users solutions to pressing problems right when they need them the most.
A user searching for "plumbers in Atlanta" isn't just window shopping; she has an actual plumbing issue that needs to be resolved quickly.
The question now is: how can you get your local business site to rank well in search engines? What are the steps involved in getting top local rankings?
In this post, I'll show you 5 easy steps you can follow to boost your website rankings in local SERPs.
Did you know there are over a billion websites in the world today and a new one pops up every second? So there are at least thousands of readers out there who will most likely be interested in your content and opinions. After all, if your content matches your audience's interest, well then that's a match made in internet heaven!
But what if you don't know what your audience likes, wants to read or share? Then creating content without this knowledge would be a waste of your time and resources. Seriously, you would just create and no one would know about it.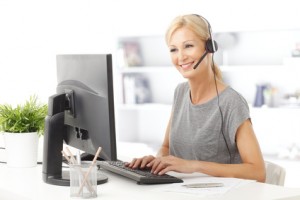 There's no surprise that customer service is among occupations that commonly involve quite a high number of stressful experiences. This job-related stress might gradually influence our reactions and behaviors, and invisibly cause the outcomes that are not really in our best interests. Exhaustion, anxiety, lack of motivation, uncertainty and frustration are reported as most common issues resulting in overall burnout and occupational hazard in customer service professionals. Have you ever asked yourself what you can do to relieve the stress and avoid the undesirable effects?
In my previous blog post I outlined 5 reasons why you should embrace a positive attitude in customer service. Today, I would like to extend on it and offer a few stress relief tips that you can easily put into your customer service job routine immediately.